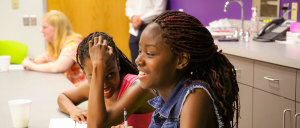 In-Kind Donations
The Young Women's Resource Center is accepting items to be donated for our programs and clients.  We would prefer that our donations are new or gently used, remaining in excellent condition.
Donations are accepted during our office hours on Tuesdays and Thursdays (8 a.m. – 5 p.m.). Please call ahead before dropping off items so we have staff available to assist you with your drop-off, and as we have limited storage for in-kind donations. 
See our list of accepted donations. If we receive items we do not currently accept, they will be donated to St. Vincent de Paul Thrift Store or Overflow Thrift Store.
*We DO NOT accept car seats, clothing or travel-size personal care items.
Summer Program Lunches
During summer programs, participants spend time with their peers in a supportive environment, have fun and learn more about what it means to be a healthy young individual. These programs are created for participants going into 6th grade through high school in or around the Des Moines area. Each week includes a variety of educational lessons, field trips, games and crafts to help them gain confidence in themselves.
Because we are committed to removing barriers, we provide transportation and lunch for our Summer Program participants. This is why we are reaching out to you today. Every summer, we struggle to provide enough meals for our participants and are reaching out to our community to help us fill this need. I am hoping you may be willing to support our summer programs and provide nutritious lunches for our clients. This is what that entails:
Summer Program lunches should serve 20 participants. These lunches are either on-site or sack lunches, depending on the day of week. Sack lunches should include a sandwich or wrap, a side of sturdy fruit/veggie (i.e. carrots, apples), and a dessert. On-site meals can either be sack lunches or a meal including an entrée (walking tacos, pizza, pasta), a side fruit or veggie, and a dessert. These should be dropped off by 10 AM the day of, and can be dropped off up to two days prior. We have a calendar of dates in June and July for these meal donations.
Ready to help or have questions about Summer Program lunches? Contact Cindy via email or at 515.244.4901.