Connections: PURRRR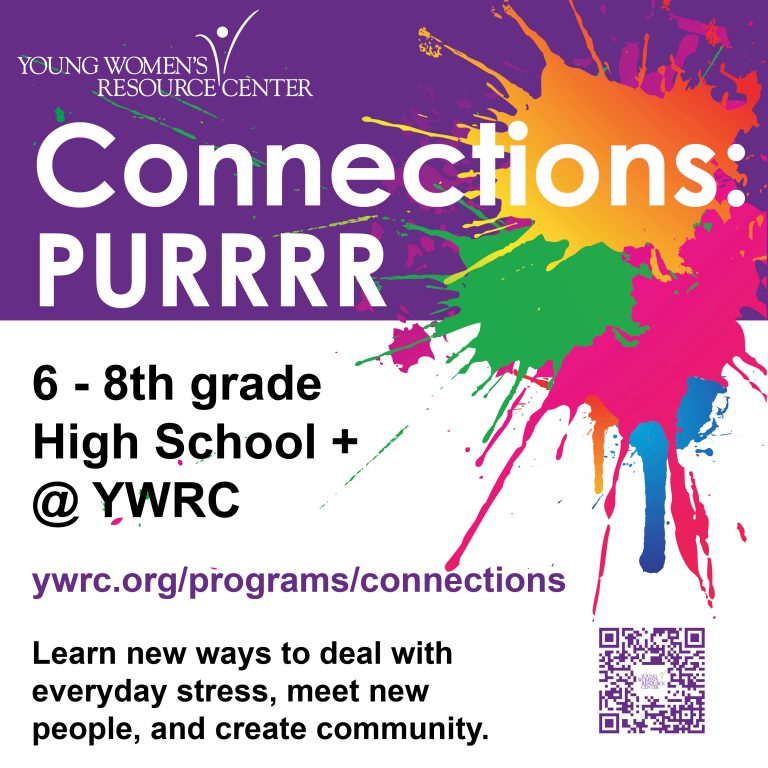 Connections: PURRRR is a therapeutic group of peers coming together to learn new ways to deal with everyday stress, meet new people, and create community.  With the pressures and expectations that girls and young women face daily, it's easy to let anger and frustration shut out those who are most important to us. Many girls and young women simply need someone to relate and connect to. That's what Connections: PURRRR is about.
Connections PURRRR flier – Middle School
Connections PURRRR flier – High School plus
Topics covered
healthy relationships
dating violence prevention
body image & self-esteem
reproductive health
dealing with stress / calming strategies
neighborhood violence
sexual abuse prevention
gambling and addiction
healthy bodies & eating disorders
drug/alcohol prevention
Activities
variety of art projects
team building activities
coping skill practice
guest speakers
goal-setting
Ages, Time,  & Day
6th, 7th, 8th graders will meet 4 – 5:30 p.m. on Mondays
High schoolers + will meet 4 – 5:30 p.m. on Tuesdays
Questions? Contact Ayo via email or at 515.244.4901.
REGISTRATION:
Related Programs
The Young Women's Resource Center holds weekly after school groups for young women in the Des Moines area in 5th through 12th grades. These groups explore a variety of topics such as body image, self-esteem, reproductive health and healthy relationships. They include hands-on activities, field trips, guest speakers and community service projects. (Groups are currently held online and meet in a virtual space. Project-specific activity kits are provided for participants.)

Mariposa, meaning "butterfly," is a weekly after school group designed exclusively for Latina young women in middle and high schools throughout Des Moines.