Movie Night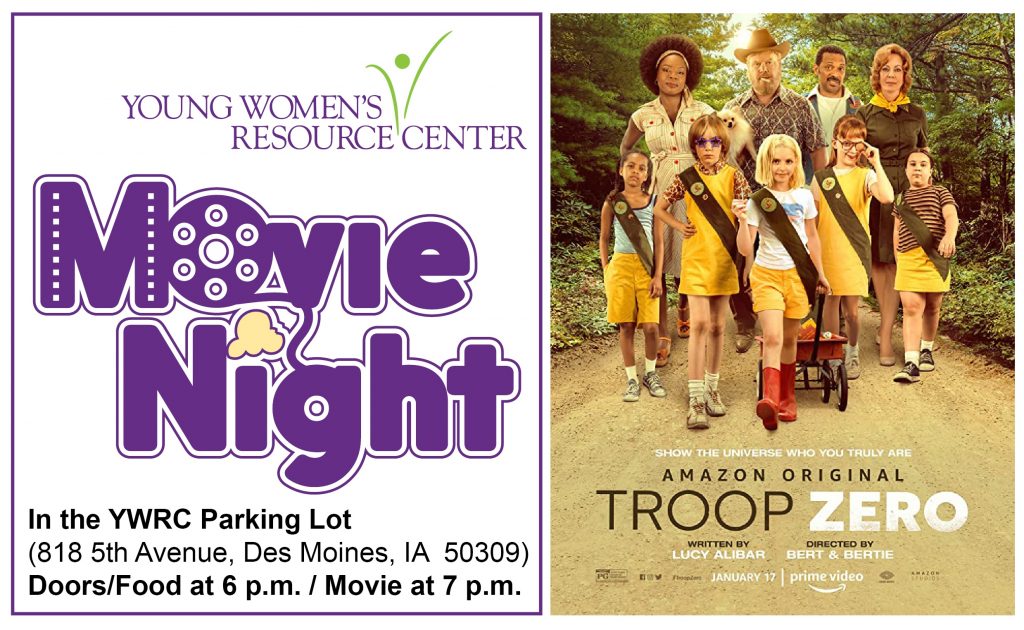 Join us for a safely-distanced outdoor movie night!
– Postponed to Friday, September 18 due to weather forecast! 
ALL YWRC Participants Welcome. Registration Required.
POSTPONED to Friday, September 18!
Doors/Food at 6 p.m.  /  Movie starts at 7 p.m.

Movie Night will take place in the YWRC Parking Lot
(818 5th Avenue, Des Moines, IA 50309)
REGISTRATION IS REQUIRED (Scroll past 'More Details' to complete the registration form). Movie night has a limit of 60 total attendees to ensure safe distancing (participants and families; only human family members are allowed to attend this event).
More Details:
Masks are required for all attendees over the age of 2. We will provide masks for those who do not have one.
Food will be available. If you have food allergies or special dietary needs, please feel free to bring your own snack or meal.
Some chairs and blankets will be made available during the movie. If you have your own chairs and blankets that you are able to bring, please do so.
"Distance Learning Kits" will be available for each participant to take home. These kits will include school supplies, a fidget toy, a face mask, individual hand sanitizer, etc.
Due to COVID-19, the YWRC is trying to be as safe as possible. We will NOT be able to provide transportation for this event. Nearby lots and meters will be available for parking.
Questions? Please call us at 515.244.4901 or email Jessica.
Related Programs
Mental Health Counselors provide one-on-one, couples and/or family counseling to young women in schools and at the Young Women's Resource Center. Counseling services are offered for all young women within the ages of 10-21.

Held at the Young Women's Resource Center, the Pregnancy and Birth Support Group provides comprehensive pregnancy, labor, birth and postpartum education for young women and their partners.

The weekly Young Mom's Program provides education and support to parenting young women in the community. Peer-to-peer support, education and a full meal and childcare are provided for the evening Young Mom's groups at the Young Women's Resource Center.