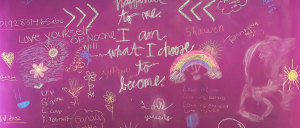 Donate
It is an increasingly difficult time for our participants. Many were already facing challenging home lives, tight family budgets, and issues of anxiety or depression before COVID-19. We are working hard to continue providing them with resources and support while following best practices to protect everyone's health. Your donation will help. 

The Young Women's Resource Center is recognized for our work to help participants become strong, self-confident and resilient. By financially contributing to the YWRC, you can give girls and young women in your community a better life and help us respond to the ever-changing needs of the local girls and young women we serve through our programs.
We are deeply invested in the future of young women everywhere. If you invest as well, your generosity is rewarded by creating a community in which young women are safe, strong and confident.
Looking to honor someone with a gift? To do so, click the 'donate ' button above and add a note in the 'comment' portion of the donation form. In this note, please include the honoree's name and contact information (so we may share the news of the honorary gift with them).
We are grateful for our current supporters who help our mission come to life.
What Your Donation Can Provide
80% of unmarried teen mothers end up on welfare, and close to 25% of teen mothers have a second child within two years of the first birth.