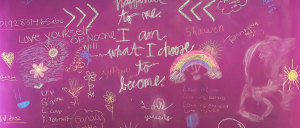 Events
The Young Women's Resource Center fills its calendar with events. With as many programs as we provide there's always something going on that furthers our mission to support girls and young women in the community through engagement, learning and entertainment, including our three signature fundraisers: Celebrity Servers, Fun in the Sun and the YWRC Gala (formerly known as Sit On It!).
Join us in celebrating our 40th anniversary! Founded in 1978,  the YWRC has been a steady source of support, encouragement and education for girls and young women throughout Greater Des Moines for 40 years.
We've organized a series of 12 events to help us reflect on where we've been, where we are now and where we may be in the next 40 years. We hope you'll join us!

Celebrate with us on Monday, October 2nd, 2017 at Centro and Django Restaurants. Local celebrities and experienced servers will treat you to  an evening of food, fun and fundraising.
Purchase your tickets online.

The YWRC Gala is Des Moines' premiere silent and live auction featuring unique pieces of art and furniture submitted by  Iowa artists. 564 guests joined us us for the 18th Annual Sit On It! on Saturday, April 22, 2017 for a plated dinner, program and great company. Save the date for Saturday, April 14, 2018!

Fun in the Sun
The Young Empowerment Partnership of the YWRC hosted a fantastic 5th Annual Fun in the Sun event at Jasper Winery on  Sunday, June 25th, 2017. Guests of all ages enjoyed lawn games, live music, raffle, refreshments and more as we kicked off summer! Stay tuned for the announcement of the 2018 date.

PCWA Basket Auction
The Polk County Women Attorneys (PCWA) will host the 16th annual Basket Auction, a fundraiser to benefit the YWRC, on Thursday, October 19, 2017.  PCWA is a professional networking organization of female attorneys in Polk County, Iowa that began as a mentoring group for new attorneys and has evolved into a lifelong association.