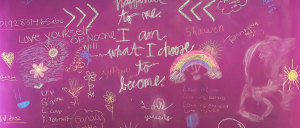 Events
The Young Women's Resource Center fills its calendar with events. With as many programs as we provide, there's always something going on that furthers our mission to support girls and young women in the community through engagement, learning and entertainment, including our three signature fundraisers: Celebrity Servers Night, PCWA Basket Auction and the YWRC Gala.
Save the date: Saturday, April 9, 2022.
This event is a  meaningful way for folks to show support of girls and young women throughout Greater Des Moines. The evening included a updates from the past year, live auction, wine pull, awards, raffle  and more!

Save the date: Monday, October 4, 2021. Thanks to all who joined us  on Monday, October 5, 2020 to celebrate our 11th Annual Celebrity Servers Night: Home Edition! 27 Celebrity Servers hosted guests online as they enjoyed a delicious three course meal from Centro, Django or Malo. Special thanks to our Presenting Sponsor Orchestrate Hospitality.

PCWA Basket Auction
On Thursday, October 28, 2021, the Polk County Women Attorneys (PCWA) will host the 20th Annual Seasons of Change Basket Auction event; a charity fundraiser to benefit the Young Women's Resource Center (YWRC). The evening will include delicious appetizers, special program, and silent and live auctions of one-of-a-kind products and services.