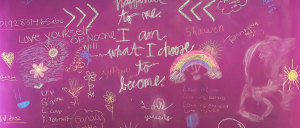 YWRC Gala
SAVE THE DATE to join us for the 23rd annual YWRC Gala on

SATURDAY, APRIL 9, 2022

. 
Thank you to everyone who joined us for YWRC Gala: Masquerade on Saturday, April 17. Together, you raised $110,000 for local girls and young women to access the critical supplies and resources they need to be strong, self-confident and resilient – thank YOU! 
You can view the event, or individual Gala videos, on our YouTube channel here. 
__________________________________________________________________________
2021 Event Information: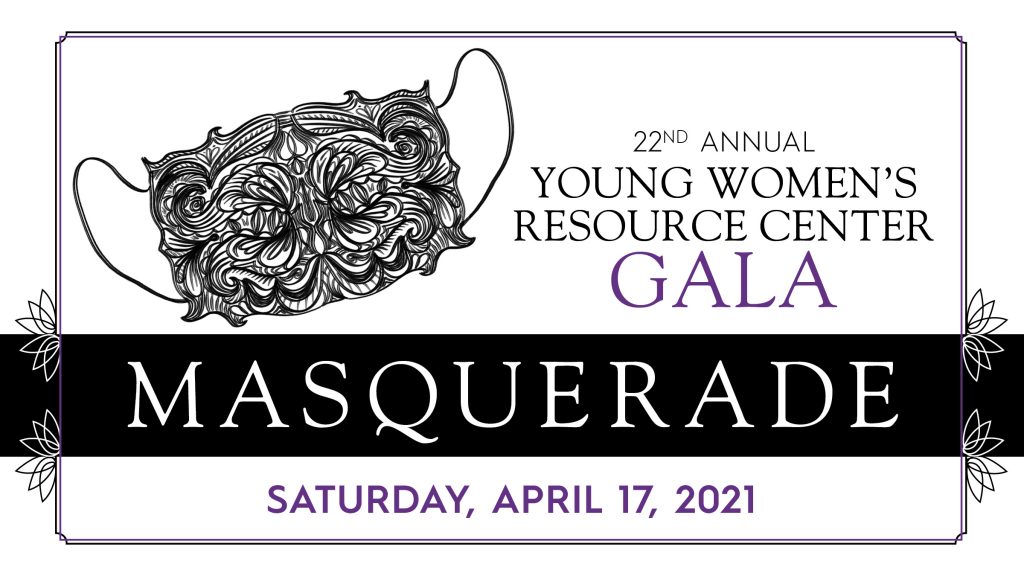 You're invited to the the 22nd Annual YWRC Gala: Masquerade on SATURDAY, APRIL 17, 2021.
Join us for the virtual YWRC Gala: Masquerade, an evening of fun and fundraising in support of girls and young women of Greater Des Moines. We are looking forward to spending the evening with you in celebration of our wonderful community and the impact you make for local youth! 
The livestream program will begin at 7 p.m. on Saturday, April 17 at a link provided to attendees prior to the event. During the livestream program, we will honor two community members and two YWRC participants with special awards (see "Award Information" section below for details). We will also share updates on all things YWRC, check in with our friends hosting house parties, hear from folks throughout Greater Des Moines, host the fan favorite Wine Pull and raffle, and conclude the celebration with a live auction.
EVENT AGENDA:
7:00 p.m. – Event Begins, Special Messages
7:10 p.m. – Awards 
7:40 p.m. – Community Impact
7:55 p.m. – Live Auction
8:15 p.m. – Raffle Winner Drawing
8:20 p.m. – Closing Notes
TICKET SALES HAVE ENDED.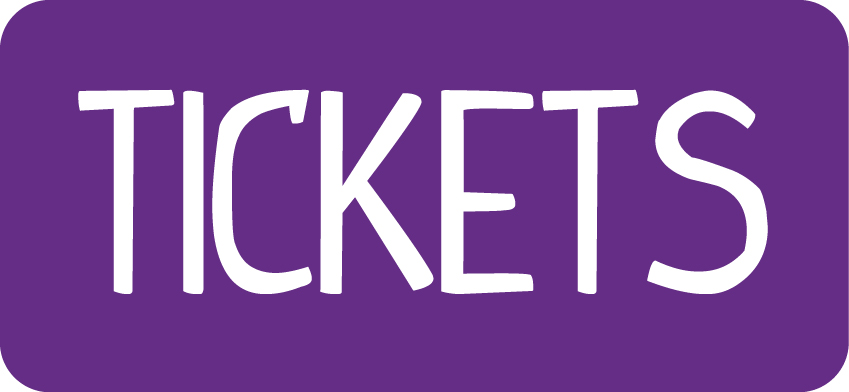 In addition to accessing the online celebration, a variety of ticket package options are available to enhance your event experience and show off your YWRC pride. Packages include raffle tickets, YWRC stickers, a limited edition print from The Red Door Press, three-course meal from Bubba (vegan option available), at-home party pack, gratitude recognition, specialty drinks and/or 2021 YWRC face masks.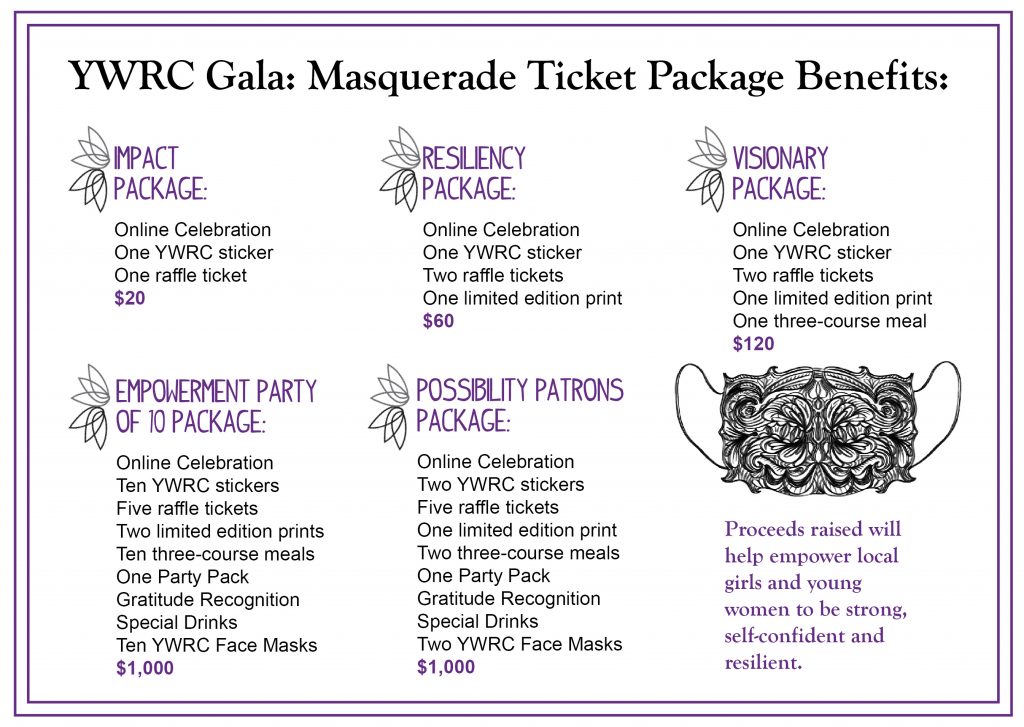 Folks who select tickets that include a meal(s) will pick-up their meals on Saturday, April 17th at Bubba between 4 and 6 p.m. (just give your name when you arrive). To select a vegan meal option, please check the "Vegan Meal" box in step two of your ticket purchase.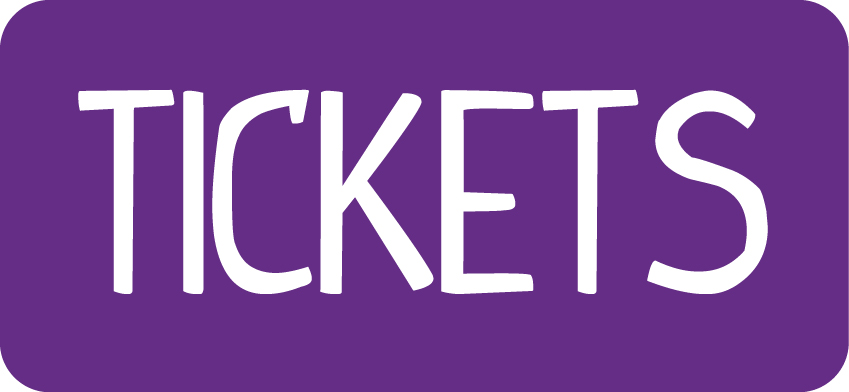 Purchase and learn more about ticket benefits here. TICKET SALES HAVE ENDED.
During the YWRC Gala, we will acknowledge and celebrate community members with the 2021 Louise Rosenfield Noun Impact Award and 2021 Louise Rosenfield Noun Visionary Award.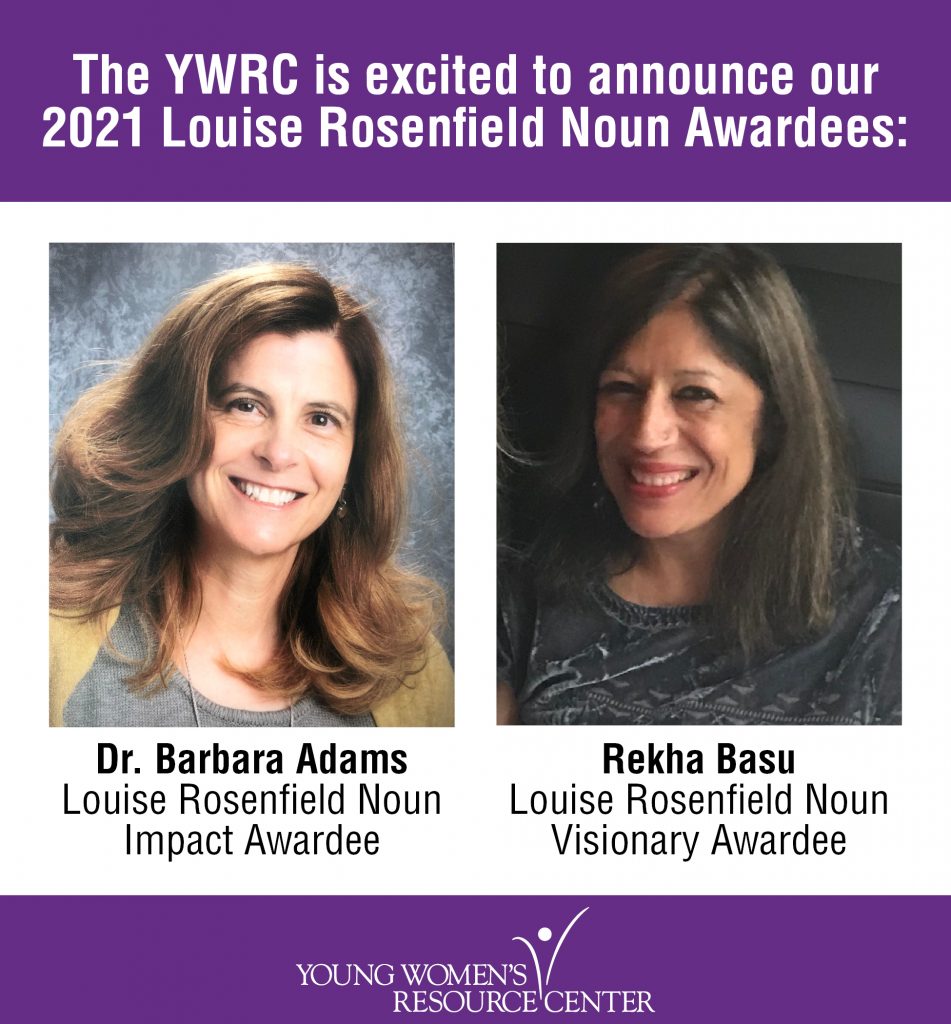 The Louise Rosenfield Noun Impact Award honors a Greater Des Moines community member for the significant impact they have made toward the empowerment of girls and young women through direct service, programming and/or mentorship. This person identifies areas of inequity and seeks collaboration to build solutions ensuring rights, opportunities and choice for marginalized populations. They strive towards gender equity, inspire others to join them in their cause, and have a direct positive impact for the community we serve.
The Louise Noun Visionary Woman Award honors advocates, activists, innovators and philanthropists whose contributions and/or body of work have made substantial contributions toward empowering and uplifting the voices girls and young women. This work is exemplified by the nominee's passionate belief in the purpose of empowerment, imagination toward what the result of their work will look like, strong sense of values guiding the work, ability to inspire others and activism toward achieving it.
We will also celebrate two YWRC participants with the Woman of Worth (WOW) awards. The WOW award is presented to two YWRC clients who are positive role models for their peers, work to overcome challenges and exemplify the values of equity, resiliency, accessibility, community and advocacy. These awardees receive the award during the Gala program.
Click here to learn more about these awards. 

Limited edition, one-of-a-kind face masks designed by 21 local artists are on sale now as part of the YWRC Gala: Masquerade fundraiser. Click here to preview and purchase masks. (Detail images from each mask shown in the image above.)
Proceeds raised through this sale will help us continue to provide a safe, inclusive space for Greater Des Moines youth to access critical resources, increase their self-esteem, learn about reproductive health and develop healthy relationships. A mask purchase also supports our larger community as 20% of a sale will go back to the artist who designed the mask purchased.
Participating Artists:
Buffalo Bonker
Marcia Bradley
Jenna Brownlee
Meanz Chan
Monica Cohen Lenoff
Marissa Hernandez
Victoria Herring
Larassa Kabel
Janelle Ketcher
Jennifer Leatherby
Jami Milne
Ramona Muse Lambert
Laura Palmer
Amy Putney Koenig
Robert Reeves
Ben Schuh
Michael VanDyke
Mollie Wallace
Tammy Winn
Molly Wood
Kito Young
About the masks:
This mask contains two layers of fabric: a 100% organic cotton interior and 84% polyester, 16% spandex exterior. Ear pieces of the mask are elastic bands loops. Note: Not medical grade. Not comparable to N95 masks. It is recommended to wash this mask before use. Masks were printed by our friends at 8|7 Central.
2021 YWRC GALA COMMITTEE:
Amy Beck
Katrina Beery
Brooke Benschoter
Laurel Howell
Erin Johnson Kitzman
Kat Mahr
Erin Reese
Megan West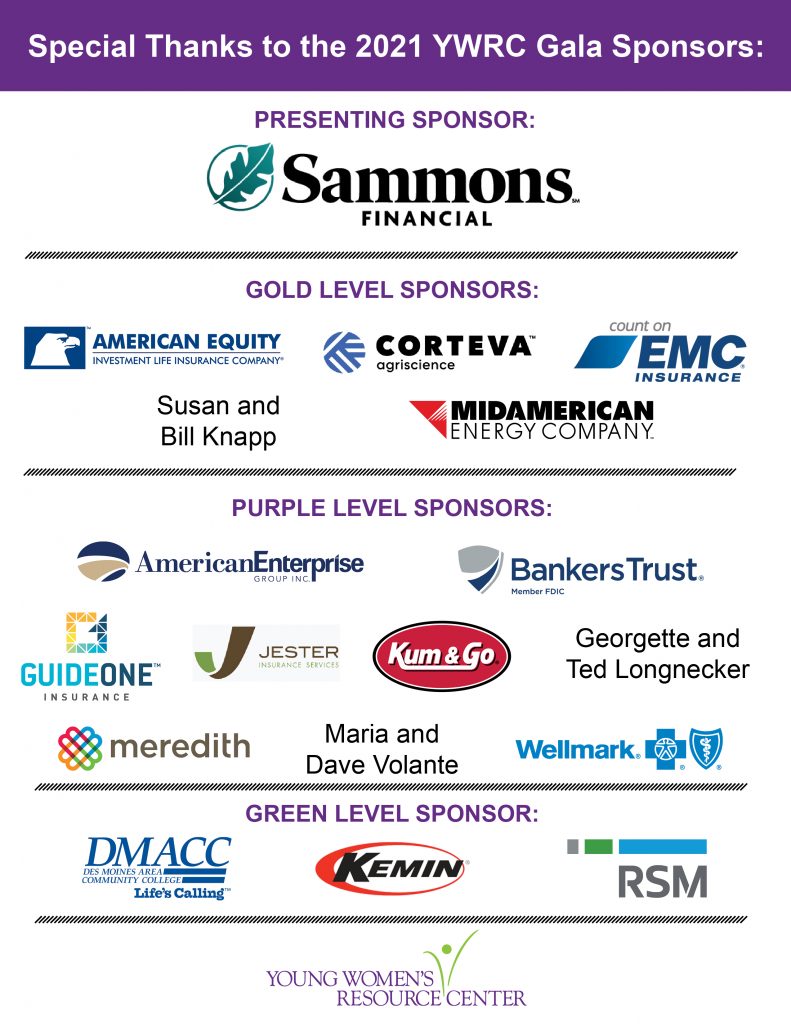 *We define 'girls and young women' as any persons who have been socialized and/or identify as female. Nonbinary and gender fluid friends are welcome.