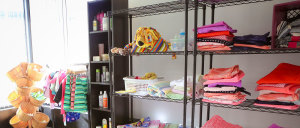 Volunteer
When you volunteer at the Young Women's Resource Center, you are helping to make the lives of young girls more successful. By helping us with fundraisers, food or donation drives, preparing and serving meals or with child care, you provide an essential part of our mission—giving young women a life of possibilities. There are many ways to help the Young Women's Resource Center, and we, as well as the 1,500 girls and young women we serve annually, appreciate it all.
current needs:
Childcare
Childcare volunteers are needed to watch over small children and infants during our Young Moms Support Group on Monday and Wednesday evenings from 5:45-7:30 p.m. This is not just "babysitting". We have a literacy program dedicated to engaging the kids in activities such as reading and crafts.
Provide a Meal
The YWRC relies on volunteers to provide meals for young women, girls and children during our evening groups and during our summer programs.
Monday & Wednesdays:
meal needs to serve 30-35 young moms & children
needs to be dropped off to the YWRC & ready to be served by 5 pm
meal includes: main dish (three 9×13 pans), side salad or fruit, bread and a gallon of milk
Summer program:
sack lunches to serve 20 girls
needs to be dropped off to the YWRC by 10 am
meal includes: sandwich, chips, fruit or veggie, dessert and bottled water (please include a couple vegetarian options) 
Special Projects
organize baby care items (diapers, baby wipes, formula & baby clothes)
help with bulk mailings
clean toys in childcare room
re-stock girls store
database entry
van cleaning
Donations & Drives
The YWRC is always in need of supplies for our programs and clients. Learn more about donations and drives.
If you are interested in volunteering at the Young Women's Resource Center, please fill out this Volunteer Application and send it to Sarah Mowitz via email or fax:
Email -

[email protected]

Fax - (515) 243-5073