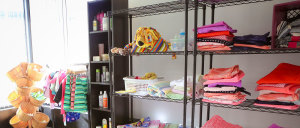 Volunteer
When you volunteer with the Young Women's Resource Center, you are supporting critical work towards empowering local girls and young women. By helping us with fundraisers, food or donation drives, preparing and serving meals, or with child care, you provide an essential part of our mission—giving young women a life of possibilities. There are many ways to help the Young Women's Resource Center, and we, as well as the girls and young women we serve, appreciate it all.
YWRC Volunteer COVID-19 Procedure
who we're looking for:
We're looking for responsible, passionate volunteers that are engaged with our mission. An ideal volunteer would be knowledgeable about YWRC programming and goals, dedicated to going above and beyond, and identifies with feminist values. At this time, we are unable to host community service hours or group activities for more than 5 people. We rarely have weekend volunteer opportunities, and volunteers must be over the age of 12 unless volunteering with a guardian.
How to Become a Volunteer – click here or scroll to the bottom of this page
current needs:
Childcare Volunteers:
Please email us  if you are interested in this volunteer role. 
Help our Young Moms make the most of our programming! As a Childcare Volunteer, you'll provide our Young Moms' children with a safe space to play while their parent is learning parenting skills, financial literacy, what to expect in pregnancy and more. Childcare Volunteers must be at least 16 years of age and have at least one year of experience working with children under the age of 3. Ideal volunteers are friendly, responsible, self-starters that aren't afraid to change a diaper. Childcare volunteering takes place during our Young Moms Programming on Monday evenings from 5:45 – 7:30 p.m., but scheduling is flexible. This volunteer opportunity is not available for short term volunteers (less than 3 month commitment), or large groups. These guidelines help our clients build trust, familiarity, and relationships with their volunteers.  A background check is required for this position.
Y-Dub Club Volunteer:
The Y-Dub Club is a flexible, high-impact way to be involved with the YWRC. The Y-Dub Club is a casual group of volunteers seeking to help with the YWRC's miscellaneous tasks like sorting baby clothes, setting up for events, and assisting with other unique, one-time volunteer needs. In Y-Dub Club, YOU get to decide how to be involved. The ideal Y-Dub Club Volunteer is at least 12 years of age and is a reliable self-starter. This volunteer opportunity is great for short term volunteers.
Meal Donations Volunteer:
Many of our clients experience food insecurity. Meal Donations are a huge part of how we keep our programming accessible for clients. By becoming a Meal Donations Volunteer, you are helping us meet the basic needs of our participants and giving them a fresh, nutritious meal. This includes both Young Moms Meals (feeding 30-35 people) and Summer Program meals (feeding 20). A great Meal Donations Volunteer would be able to make a financial and time commitment (both buying and preparing meals) and can donate a meal at least once every two months.
Database Assistance Volunteer:
Are you database savvy? We need volunteers to help us stay on top of tracking donor, client, and volunteers information. The best database volunteer is over the age of 16 and someone who can pay attention to details and ask questions!
This is both a long- and short-term volunteer opportunity, and training is available. This volunteer position may be performed off-site if that works best for you.

Donations & Drives
The YWRC is always in need of supplies for our programs and clients. Learn more about donations and drives.
Ready to Volunteer?
If you are interested in volunteering with the Young Women's Resource Center, please fill out this Volunteer Application and send it to us via email or fax:
Email –

[email protected]

Fax – (515) 243-5073