Programs
Welcome to the YWRC Programs page!
From this page, you will be able to see general information about our programs, find links to informational YWRC videos, and navigate to specific programs based on age/audience.
After School Groups
Counseling  
Empowerment Summer Programs
Open Air Art Experience
Young Moms Programs
How to find specific program information:
Select an icon to the right to see all of the programs offered  for a specific age range (5th, Middle School, or High School) or  for pregnant/parenting youth (Young Moms).  Each audience page will have a brief description followed by all of the programs offered for that specific age or group.
Example: For a 7th grade participant, you would select Middle School and be directed to the Middle School main page. Scroll down to see all of the specific programs available to 7th graders, such as After School Groups, Summer Program, and Counseling.
About YWRC Programs:
The Young Women's Resource Center provides a wide variety of programs for girls and young women* ages 10 – 24 that help them gain confidence in who they are, providing them with effective problem solving and coping skills so they can make informed decisions in their future. Programs are centered on building resiliency, self-esteem, healthy decision making, confidence, healthy relationships, and knowledge.
All of the YWRC's programs are voluntary, free, and confidential, and are offered to girls of all backgrounds and personal situations. We are committed to the success of all girls and young women in Greater Des Moines.
During programs, girls can come spend time with others in a supportive environment, have fun, and learn more about what it means to be a healthy young woman.
YWRC staff also offers age appropriate, fact-based reproductive health facilitation. Interested in having our team lead reproductive health lessons? Click here to learn more.
View our Programs Video Series information here!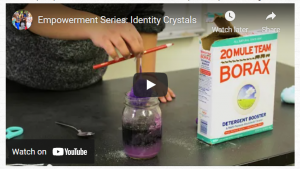 Refer youth for program participation:
Know a girl or young women who is interested in or would benefit from YWRC Programming? You can refer them to our programs by completing an online form here.
*We define 'girls and young women' as any persons who have been socialized and/or identify as female. Trans, gender fluid, and nonbinary friends are welcome.