After School Groups
The Young Women's Resource Center holds  After School Groups for 5th – 12th grade participants in the Greater Des Moines area. These groups seek to foster a healthy body and mind by allowing girls to participate in a variety of hands-on activities.
The range of topics covered in these groups is large enough to compete with the number of issues that affect young women at any stage. By discussing things like body image, self-esteem, puberty and reproductive health, peer pressure, goal setting, and everything in between, the girls are able to equip themselves with the skills to live healthy and happy lives.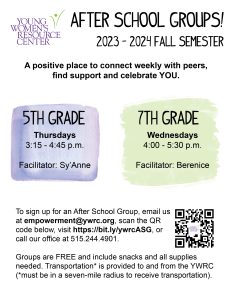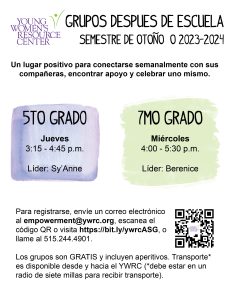 PDF of the YWRC After School Flier – Spanish and English
Topics Covered
body image
self-esteem
puberty/reproductive health
healthy relationships
friendships
cooking/hobbies
peer pressure
self care
goal setting & achievement
healthy bodies/healthy minds
family relationships
dating violence
Activities
guest speakers
friendship bracelets
girls store
letter writing & card making
making smoothies & cookies
field trips
tie-dye shirts
hygiene kits
Age groups:
5th grade group, 6th grade group, 7th grade group, 8th grade group, High School group
Specialty groups:
Black Girl Magic, F.U.N., Mariposa
Current Fall Semester Time, Day, & Facilitator:
5th grade:  Tuesdays/Martes, 3:15 – 4:45 p.m.  |  Facilitated by Sy'Anne
7th grade:  Mondays/Lunes, 4 – 5:30 p.m.  |  Facilitated by Berenice
Registration:
To register for an After School Group, please complete the following registration form below.
All groups are filled on a first come, first served basis until the group reaches capacity. Facilitator will contact you when your form is received. / Todos los grupos se llenan por orden de llegada hasta que el grupo alcanza su capacidad. El líder se comunicará con usted cuando reciba su formulario.
If you have any questions or need assistance please contact [email protected].  or call the YWRC at 515.244.4901. / Si tiene alguna pregunta o necesita ayuda, comuníquese [email protected]  o llame al YWRC al 515.244.4901.
After School Group Registration Form:
Please complete this form to be considered for our After School Groups.
Related Programs
Black Girl Magic is a group for black girls to discover and celebrate their culture and roots. This group explores the ways in which their Blackness shapes life experiences.

Mariposa, meaning "butterfly," is a weekly after school group designed exclusively for Latina young women in middle and high schools throughout Des Moines.