Back to School Bash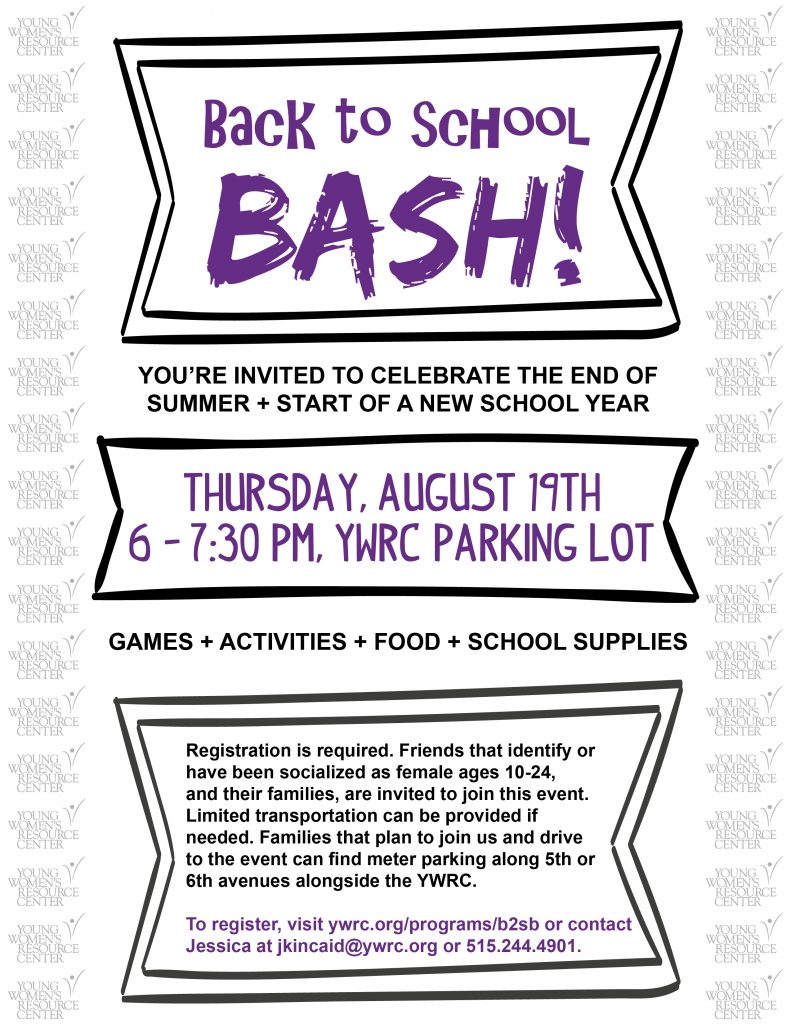 REGISTRATION FOR THE BACK TWO SCHOOL BASH HAS ENDED. If you have questions, please email the Empowerment Team or call us at 515.244.4901.
Details:
YWRC Back to School Bash will take place in the YWRC parking lot and will be offered to all YWRC participants ages 10-24 (this includes those who have been involved before AND those who are interested and/or new to the YWRC). This includes Empowerment participants, Counseling clients and Young Mom participants and their kiddos.
This FREE event will take place on Thursday, August 19th from 6 – 7:30 p.m.
Masks are required for ALL attendees over the age of two. This includes folks who are  vaccinated. Masks required in the YWRC building AND outside during this event. Masks will be provided for those that do not have one.
Our restrooms will be open and masks are required for all to enter the building.
Food will be available. We have a lovely group of volunteers that will be grilling food! If you have any food allergies or dietary needs please feel free to bring your own snacks/meal.

If additional caregiver/guardian or other household members plan to attend please indicate this number on the registration form that way we can provide an adequate amount of meals for everyone.

School Supplies will be available for each participant to take home.
Transportation:
Due to the current state of COVID-19, the YWRC is still trying to be as safe as possible, we will be able to provide limited transportation to the event and ask that, if able, participants find their own transportation.
Nearby parking lots will be available to park in as well as meter parking around the YWRC building.
The YWRC address is: 818 5th Ave, Des Moines, Iowa, 50309.
Registration:
REGISTRATION FOR THE BACK TWO SCHOOL BASH HAS ENDED. If you have questions, please email the Empowerment Team or call us at 515.244.4901.
Registrations are FREE and are accepted at a first come, first serve basis. We enroll participants as we receive their registration forms and will stop accepting registration forms 2 weeks before the event.
Please fill out the  Registration Form  and submit in via email to [email protected],  fax to 515.243.5073,  or to our office at 818 5th Ave Des Moines, IA 50309.
Staff at the Young Women's Resource Center will make confirmation emails or phone calls prior to the event.
If at any point, your plans to attend the Back to School Bash change, please call us at 515.244.4901 or email

[email protected]

. 
Related Programs
Connections is an all year long, continuous educational program focused on issues such as anger management and impulse control. Connections is an ongoing therapeutic group.

Mariposa, meaning "butterfly," is a weekly after school group designed exclusively for Latina young women in middle and high schools throughout Des Moines.

Middle and High Schoolers are invited to join us online for Virtual Support Groups. These groups offer an opportunity to be present (virtually) with a counselor and peers to find support, connect and navigate day-to-day stressors to help improve your overall wellness.