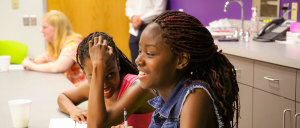 COVID-19 Response and Updates
Message from 3.18.2020:
The YWRC has created a new Resources page in response to COVID-19/Coronavirus. This page includes information about where to find support throughout our community, tips for coping through challenging times, and a whole lot of activities and ideas for safely passing the time. Visit the Resources Page.
---
OFFICE AND PROGRAM UPDATE
Message from 3.16.2020:
The Young Women's Resource Center (YWRC) acknowledges that many within our community are feeling vulnerable and concerned in regards to COVID-19 (Coronavirus Disease). The well-being of our participants, staff and volunteers is of the upmost importance to the YWRC. We are paying close attention to national and local health agencies to ensure we follow necessary precautions to maintain a healthy environment for our participants, staff, volunteers and community.
We stand firmly behind our responsibility to create the healthiest environment possible and to protect our community from further harm. With this in mind, as well as careful consideration of recent announcements from local, state and national agencies, the YWRC has determined the following:
The YWRC office will be closed for four weeks and all groups/programs for this duration have been cancelled (Monday, March 16 through Monday, April 13). While our office is closed, our staff remains committed to providing critical resources and support, and will be coordinating these efforts directly with participants to ensure the upmost safety precautions are observed. Staff will also continue to work remotely during this time.
These cancellations include the Empowerment Workshops originally scheduled for March 18 and 19. In lieu of hosting these workshops, we will be providing take-home DIY kits to those who had registered. Our staff will be in contact with caregivers to arrange this distribution of these kits. Strict hygiene and social distancing guidelines will be in place during the time of kit pick up.
Participants in need of individual support or resources (such as diapers, food, personal care items) are encouraged to reach out to their facilitators. Counseling during our closure will be offered via phone or video chat as set up by our providers.
We will NOT be receiving any in-kind donations during the time of closure. Thanks to the generosity of our community, we believe we can utilize our current supply for the next coming weeks.
The YWRC Gala has been rescheduled from Saturday, April 18 to Saturday, June 27. More information regarding this decision and the Gala can be found at ywrc.org/gala.
While these decisions are difficult, we know it is what must be done to make the best out of this situation.
Four weeks is a long time to be without programs and our community. To try to help ease this, we will be keeping an up-to-date resource guide available on our website. This will include information about where to find support throughout the community, tips for coping through challenging times, and a whole lot of activities and ideas for safely passing the time. (A new page to host this information has been made; scroll to the top of this page and click on 'Resources'.)
Have resources, information or activities to share? Send them over to Erin via email.
Lastly, we are asking our community to join us in being positive role models for our youth. Stigma and fear surrounding COVID-19 have already had a negative impact. Several participants recently shared instances of facing overt racism and xenophobia. Please be aware of how you are communicating about COVID-19 and utilize the YWRC's core values of equity, community and advocacy to inform conversations. By leading with these values, we can support those feeling marginalized, decrease stigma and lessen fear.
Questions?  Contact us at 515.244.4901 or [email protected]. If you have questions about COVID-19, the Iowa Department of Public Health has established a 24/7 hotline that can be reached by calling 2-1-1.
Remember, this is temporary. We are taking precautions now so that we can thrive again soon. Take care of yourselves, check in on your people and reach out if you need help. Our office may be closed, but we are committed to being here for our participants and community.