Lotus
Master Emotions Creatively –  Art therapy for High School Students
Six week programming beginning Thursday, January 21st, 4 – 5 p.m. 
Group will meet for six weeks at the YWRC with social distancing practices in place.
Transportation to and from group will be provided for those within a 7 mile radius of the YWRC. Snacks and art supplies are also provided.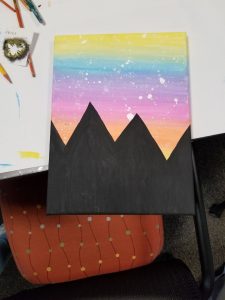 Goal:  Improve awareness of how grief and disappointments impact your life. Explore emotional regulation, make connections, learn coping skills and draft a safety plan for self-care.
Participants will:
Identify losses
Connect with emotions
Create a healing space
Make a recovery plan
This session will has limited space so sign up today! Scroll down to the "Registration" section to sign up.
**For more information, contact Marcia at 515.244.4901 or via email.
___________________________________________________________________
Lotus is a program that explores creative expressions like painting, music and more to build self-esteem, healthy relationships and resiliency. Lotus is designed for girls and young women who have experienced trauma such as physical/sexual abuse, harassment, dating violence or who have been impacted by domestic violence.
The Lotus program offers individual and/or group experiences designed to minimize the negative impact of abuse on participants' bodies, minds and futures. The goal of this group is to guide clients to gain insight to their thoughts, feelings and behaviors while building resiliency, self-esteem, coping skills and healthy relationships.
___________________________________________________________________
Topics Covered
resiliency
coping skills
self-esteem
empowerment
trauma-related issues
healthy relationships
Activities
exploring creative expression methods such as:

sketching, drawing, painting
mixed media
journaling

goal-setting
coping skills
___________________________________________________________________
Registration
Related Programs
Connections is an all year long, continuous educational program focused on issues such as anger management and impulse control. Connections is an ongoing therapeutic group.

Mental Health Counselors provide one-on-one, couples and/or family counseling to young women in schools and at the Young Women's Resource Center. Counseling services are offered for all young women within the ages of 10-21.

Middle and High Schoolers are invited to join us online for Virtual Support Groups. These groups offer an opportunity to be present (virtually) with a counselor and peers to find support, connect and navigate day-to-day stressors to help improve your overall wellness.