Lotus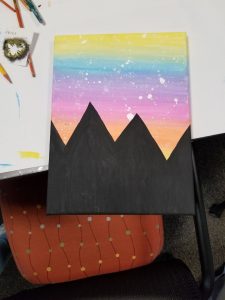 Lotus is a program that explores creative expressions like painting, music and more to build self-esteem, healthy relationships and resiliency. Lotus is designed for girls and young women who have experienced trauma such as physical/sexual abuse, harassment, dating violence or who have been impacted by domestic violence.
The Lotus program offers individual and/or group experiences designed to minimize the negative impact of abuse on participants' bodies, minds and futures. The goal of this group is to guide clients to gain insight to their thoughts, feelings and behaviors while building resiliency, self-esteem, coping skills and healthy relationships.
For more information, contact Marcia at 515.244.4901 or via email.
Topics Covered
resiliency
coping skills
self-esteem
empowerment
trauma-related issues
healthy relationships
Activities
exploring creative expression methods such as:

sketching, drawing, painting
mixed media
journaling

goal-setting
coping skills
___________________________________________________________________
Registration
Related Programs
Join us for a night of fun at the 2021 Trunk N Treat event on Wednesday, October 27, 2021, 5 – 7 p.m. Registration is below. 2021 Trunk n Treat Flier PDF 

The Young Women's Resource Center holds weekly after school groups for young women in the Des Moines area in 5th through 12th grades. These groups explore a variety of topics such as body image, self-esteem, reproductive health and healthy relationships. They include hands-on activities, field trips, guest speakers and community service projects. (Groups are currently held online and meet in a virtual space. Project-specific activity kits are provided for participants.)

Tuesday, August 9  /  2 – 4:30 p.m. @ YWRC parking lot (818 5th Avenue, Des Moines 50309) Who: YWRC participants ages 10-24. This includes Empowerment participants, Counseling clients and Young Mom participants and their kiddos. Join us to celebrate the end of summer and beginning of a new school year at our annual Back […]