Staff Spotlight: Ashley Ezzio
We are excited to celebrate one of our hard working, dedicated and kind staff members this month, Ashley Ezzio. Ashley has been part of the Young Women's Resource Center team for a little more than two years as our Childbirth and Perinatal Specialist. A main component of her role is to facilitate a weekly pregnancy and childbirth education group with expecting mothers ages 21 and younger. Discussion during this group focuses on what it's like to be pregnant, and the options mothers and families have during their birth journey.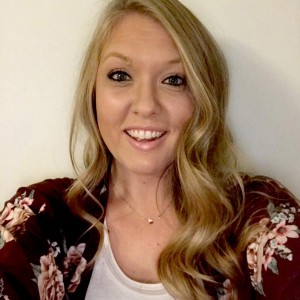 In addition to the pregnancy and childbirth group, Ashley leads groups for young mothers in three metro high schools every week, provides individual support for clients, coordinates the YWRC's Better Beginning's Doula program and administers the Marilyn S. Jeffries scholarship fund supporting young moms who wish to pursue higher education.
Ashley recently completed a comprehensive training to become a Certified Childbirth Educator through the International Childbirth Education Association. This certification allows her to teach best practices to clients during pregnancy and birth as well as during postpartum and when they are providing infant care. To complete this certification, Ashley completed extensive research and reading related to perinatal education, participated in births, was evaluated during six hours of live facilitation and implementation of custom lesson plans, and passed a comprehensive written exam. Ashley believes this certification gives her the foundation and confidence to ensure the young mothers accessing services with the YWRC receive the best education available, in an engaging and supportive environment.
The most rewarding part of her job is when she sees a new mother with her child and the mom is feeling confident in her new role.
"There is something magical about being a part of a woman's journey to becoming a mother. I feel honored that so many families allow me to be a part of their story."
While Ashley's role is full of meaningful, uplifting and proud moments, it is also full of challenges.
"The most challenging part of my job is fighting the injustices I see reflected in a mother's face. Seeing a mother turned away from prenatal care due to age and guardianship issues, or a mother enduring cruel words as she walks the halls of her high school, never gets easier. This frustration only motivates me to be a louder, kinder voice for the mothers we serve."
Ashley would like the community to know how resilient and loving the young mothers are that come to the YWRC. She encourages all of us to support any mother we come across, and to remind them of just how powerful they can be.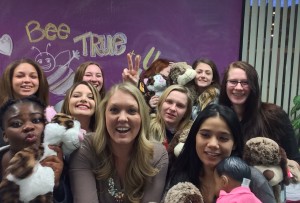 "In the last two years, I have met some of the most compassionate, intelligent and dedicated mothers in the world. These mothers endure hardships, yet handle them with grace and with their child's best interest in mind".
Ashley speaks fondly of and feels fortunate to have had strong role models throughout her life. Her strong conviction of the importance of family is evident by all she works with.
"My father taught me how important it is to use my passion to help others. My mother taught me that I could be a fierce, independent woman while also being an emotional and attentive mother. I have a deep appreciation and respect for Di Petsche and Tamela Hatcher, who have dedicated their lives to advancing the health and well-being of families in our community. My daughters are a daily inspiration for the work I do. As a young mother, my oldest daughter Aubree taught me the beautiful challenge of loving someone so much you think your heart may explode, combined with the sheer will of how to survive on mere minutes of sleep. My youngest daughter, Autumn, has shown me that life's obstacles often expose a person's truest strengths. Their existence makes me whole".
Encouraging girls and young women to realize their power and to embrace the truest parts of themselves is central to Ashley's facilitating style. She credits the YWRC for also encouraging this and giving girls and young women a safe space to explore their strengths and ways to put them to use.
Although free time is scarce in her busy household, Ashley's favorite pastimes are those centered on family. Some of her favorites include bonfires, making s'mores, traveling to the beach or taking a simple hike. She and her talented husband have designed and built (and rebuilt) most of the furniture in their home. Ashley is also training with her daughter to run their third 5k with Girls on the Run. While many of us know that Ashley is a tea connoisseur and is rarely seen without a cup of tea in her hand, it is being surrounded by the people she loves that makes her feel most content.
Ashley is an invaluable resource to the young moms she serves and to our community. She is a true advocate and champion of our young women and we are grateful to her for sharing her passion, determination and leadership with us each day. Thank you, Ashley!
(Learn more about your Young Moms programs here.)