Board Spotlight: Ariadna Arias Rosario
In June of 2017, the YWRC welcomed Ariadna Arias Rosario to our Board of Directors. Ariadna has long been a huge fan of the YWRC's work and mission and has volunteered with us through the DuPont Pioneer Women's Network group. She demonstrates a tangible energy and excitement whenever she speaks about her work with the YWRC.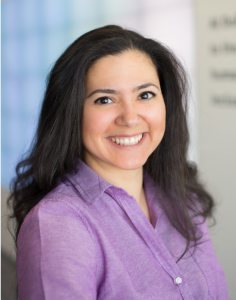 "I'm passionate about the work the [board] does to help young women and girls across the metro overcome adversity and develop into strong, confident women. My favorite part is interacting with the YWRC's team and seeing how their passion and day-to-day commitment to their work help the young women and girls that participate with the YWRC.
Recently during a board meeting, we were discussing the impact an ongoing program could have on a potential client(s) and the decision made from that discussion was my light bulb moment. Knowing that we were going to positively impact that specific client resonated with me."
In addition to her volunteer work with the YWRC, Ariadna is also involved with the Women in Science and Engineering partnership between DuPont Pioneer and Iowa State University.
"As a Venezuelan-American, I feel very strongly about giving back to a community that has always been welcoming. As a young girl, my mother always gave back to our community and she instilled in us the importance of making a difference, one person at a time."
Ariadna's drive to give back and commitment to community is inspired by her family.
"I come from a big extended family, and the women I am lucky to call my own have always been my role models. Many have bucked the trend and the norm to follow their hearts and desires for careers and families. Still to this day, they serve as sources of inspiration and support."
Just as the strong women in her life have done, Ariadna would like to pass on advice to the next generation:
"Surround yourself with peers and leaders that embody the traits you wish to have. Your character is often influenced by those around you. Always have that touch-point of what you want to achieve and who you want to be; whether that's a mentor, teacher, church leader."
In addition to volunteer work, Ariadna likes to spend time with her family.
"Our toddler keeps us busy most days, but seeing the world through her eyes and experiencing common things in life through her has been amazing."
Here are three things you may not know about Ariadna:
She loves to travel and will go anywhere with good food
Ariadna has a passion for reading, although she doesn't get to do too much of it these days
She likes sour candy
We are excited to have Ariadna on our team and look forward to getting to know her even better. Thank you for sharing your passion and commitment to community with us, Ariadna!