Volunteer Spotlight: Katie Reichardt
Volunteers are a key component of our ability to operate successfully. This month we are excited to feature a volunteer who joined us about a year ago to complete a special project: Katie Reichardt.
Katie was curious about volunteer opportunities around the community and came across the YWRC.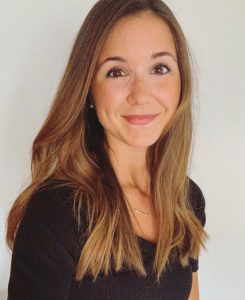 "If I'm honest, it came about in a google search. 🙂 I was looking for places where I could get involved in the community, and YWRC stood out to me. Women's empowerment and physical/mental health is something that I am passionate about, and YWRC's values very much embody that."
We learned quickly how Katie's skill and interests aligned well with support we needed in developing a volunteer database.
"Katie stepped in at a critical moment to help the YWRC create better systems for engaging with volunteers and tracking their impact. Her time and energy will have a long-lasting ripple effect supporting all aspects of YWRC programming." – Sonia Ashe, YWRC Director of External Affairs
Volunteers generously donate their time and talent to help support our staff, and we're glad to know that Katie has enjoyed the work she's been doing with us a volunteer.
"I've done a variety of activities with YWRC, but mainly I have been helping with the database administration (specifically relating to the volunteer database). My full-time job is in the Corporate world, where I am working with datasets and process efficiencies on a day-to-day basis, so it is fun for me to use those skills to help the YWRC in that capacity.
My favorite part has been getting to meet the YWRC staff and see all of the activities and events they are working on. While I haven't been able to join many events in person yet this year because of the pandemic, I'm excited for the latter half of 2021 where I can see their hard work in action."
In addition to volunteering with the YWRC, Katie also spends time as a mentor to high school students who aspire to be first-generation college students with the DMACC Upward Bound program.
"I love volunteering because it's an easy way to give back to the local community. On a personal level, it brings me joy knowing that I am helping others and making a difference, while building relationships with people I meet through the program.
Volunteering for the YWRC, you can see the direct impact it has on young women in the community. The classes, workshops, counseling & after-school programs all find ways to give girls a sense of community and support at a time when they need it most."
Katie's commitment to community involvement and helping others can be linked to the example given to her by her mother.
"My mom has been a role model growing up and still today. She worked, juggled kids at home, was involved in all of our school activities, and made it home to cook us a family dinner every night. She taught me a lot about hard work and what it means to serve others."
The advice Katie would like to share with the youth of our community is:
"Vulnerability is cool. Know that it's ok to ask for help and let trusted adults know when you're not doing ok. There are many women (especially in the YWRC) who would go out of their way to help you."
We agree with Katie. If you or someone you know is looking for a trusted adult or safe space, contact us via email or give us a call at 515.244.4901.
While it's clear that Katie is committed to being an active community member, here are three things you may not know about her:
She loves to travel! She's made it to 6 continents, but needs some new winter gear before she'd take on Antarctica
She can moon walk.
She's from Minnesota, but secretly roots for the Green Bay Packers.
THANK YOU, Katie for stepping in during an extra challenging year and easing our project load. We appreciate your willingness to learn with us and ensure we have systems to help us connect further with our community.