Staff Spotlight: Maria Savaidis
This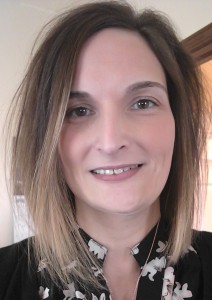 month we are happy to introduce one of our newest staff members, Maria Savaidis. Maria started with us as a Mental Health Therapist about three months ago. In her role, Maria works with girls and young women ages 10 – 21 by appointment.
"I help girls with a wide variety of symptoms/diagnoses including anxiety, depression, ADHD, to every day stressors. I operate from a client-centered approach which means I allow clients to direct what they wish to work on."
Maria has a spent her whole career working in human services.
"I found my passion for mental health while providing Supported Community Living (in home skills based service) to individuals with chronic mental illness. I have provided a variety of services including individual, family, and group therapy."
As with most careers, Maria balances challenges with successes.
"Right now, scheduling is the most difficult part of my role due to greater need for after school appointments and not enough availability. The most rewarding thing about my job is being an observer to someone having that 'ah-ha' moment and making progress towards their goal(s)."
Even though the role of a therapist can often come with stress and second-hand trauma, Maria finds herself inspired.
"I would like the community to know that the girls and women that I have worked with in my short time here are truly amazing and inspiring. They are faced with many barriers and challenges and still continue to be steadfast in their desire to learn, achieve, and get better."
As a child, Maria's main role models were her parents.
"My mom and dad were role models to me because they own and operate their own business, which has been successful for 38 years. They work together 6 days a week, exemplify what hard work is and can get you, and have remained happily married. They are an inspiration to me."
Now as an adult, she hopes to pass on some of the same lessons of hard work and passion as she encourages girls and young women to find and pursue their own passions.
In her free time, Maria enjoys cooking with her fiancé Gabe, reading, going for walks, time with friends, and cuddling with her cat, Denali.
Three things you may not know about Maria:
She was in a 48 Hour Movie
She has been to Greece
She was born on the same day that MTV was launched
We are happy to have Maria on our team and look forward to seeing the positive impact she will have on our girls and young women. Welcome, Maria!