Volunteer Spotlight: Megan West
This month, we are pleased to put the spotlight on one of our most active supporters, Megan West.
Though Megan had volunteered for several organizations, she was looking for a more consistent commitment when she sought opportunities with the YWRC. Since she joined the Sit On It! event committee three years ago, Megan has grown to be a leader within the team.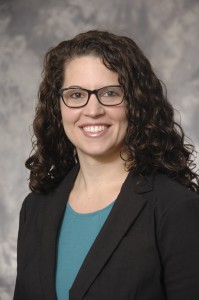 "I enjoy working with such a wonderful group. It's truly amazing and gratifying to be able to see the result of months of planning."
Megan is also an active member of the YWRC's Marketing Committee. Her positive attitude and genuine commitment to supporting our girls and young women is evident by her willingness to share ideas and meet challenges head on.
Her understanding of how difficult adolescence can be is what keeps her coming back.
"I lived in three different states between 6th and 10th grades, and I understand how impressionable kids are at that age. Those years were tough for me and I can see the importance of the programs offered at the YWRC. While it was the mission that caught my interest, it was the people and their commitment to helping young women that really drew me to the YWRC. I'm incredibly grateful for the life that I have and I think it is important to give back to my community. It's especially important to me to feel like I am making a difference to someone."
Inspiration comes to Megan through the art and humanity, which help to drive her passion for volunteering.
"I am a complete sucker for stories showing the power of an individual and the big impact that one person can make on someone else."
We can vouch that she is one of those people who is making a big impact. In addition to her involvement with the YWRC, Megan has been volunteering with Hawthorn Hill's Art and More for Shelter and Make-A-Wish's Jolly Holiday Lights for the past four years. She and a few of her friends have also recently started helping with lunches at the Iowa Homeless Youth Center downtown.
Megan's commitment to giving back stems from her parents.
"My parents have always been my biggest role models. Both have always been active volunteers, at least for as long as I've known them. They taught me to believe in myself and have always been there to support me, regardless of what is going on."
As someone who easily remembers how difficult middle and high school can be, she shares this advice with girls and young women of today:
"Don't be afraid to be yourself. It can be intimidating and scary to stand out in a world telling you to fit it, but you make true connections when you dare to be yourself."
In her free time when she is not volunteering, Megan can be found training for the Dam to Dam half marathon, which will be her second half marathon. She also likes to spend time enjoying all Des Moines has to offer.
"I love that it's a small big city. It's small enough to get around easily, but big enough that there is always something to do. The people are friendly here. It's refreshing to be able to go for a walk and say hi to the people you pass along the way."
We are glad Megan loves Des Moines, because we certainly don't want her leaving any time soon.
Thank you for your time, genuine enthusiasm and thoughtfulness, Megan. You are a rock star!