Sponsor Spotlight: Sammons Financial Group

The Young Women's Resource Center is excited to highlight Sammons Financial Group in this month's spotlight feature. Sammons has supported the girls and young women of the YWRC through sponsorship of our Sit On It! event for the past three years and we are proud to have them as Presenting Sponsor again for 2017.
To gain insight to what motivates Sammons to be such a strong supporter of local young women, we interviewed Rhonda Elming, Vice President of Product Development for Sammons and YWRC Board member since 2014.
Sammons first got involved as a Sit On It! event sponsor through Rhonda's recommendation to the Community Involvement Committee. It quickly became clear that Sammons and the YWRC have shared interests. The mission of YWRC aligns well with Sammons spirit of community involvement and philanthropy, as they recognize the significant contributions women make within their company and community. Sammons shares our goal to ensure young women are given the proper support and opportunities they need to live up to their full potential.
"Sammons Financial Group, like the YWRC, is committed to making lives better and giving back to the communities in which we live. The YWRC programming aligns well with Sammons Financial Group's desire to support child development, education and the under-served, among others."
In addition to providing support through sponsorship, Sammons encourages employees to be active members of the community through volunteerism.
"Giving back to our communities is embedded in our vision and our culture. Sammons Financial Group supports organizations our employees are actively engaged with and are approved by our Community Involvement Committee. The company also provides a generous number of opportunities for our employees to volunteer, and provides some time off from work to do so.  The level of engagement is amazing and I am proud to be part of such a great organization.
Volunteers play an important role in our communities. In addition to making our communities a great place to live and to conduct business, volunteering is personally very fulfilling and is a good way to get to know a lot of people who care about the same things you do."
While Rhonda often represents Sammons on the YWRC Board and during collaborations, she also has a personal connection to the YWRC.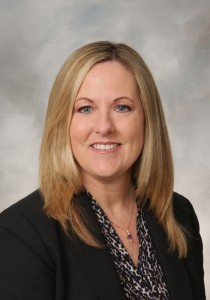 "As a mother of two daughters, I am passionate about helping young women to lead happy, healthy, fulfilling lives. I have enjoyed working with the YWRC staff and am in awe of the tremendous work they do. I have learned a lot about our communities' needs and have been inspired to strengthen my engagement and advocacy for the Center. I also really enjoy hearing about the young women that have leveraged the resources at YWRC to build their resiliency and self-confidence to overcome challenges and continue their education. These girls are amazing!"
As a businesswoman, YWRC Board member and mother, Rhonda's advice for all girls and women encompasses several lessons we teach during programs at the YWRC.
"There are a few things I think are important for all women to keep in mind. First, women need to advocate for each other; focus on building each other up rather than tearing each other down. Second, you are not alone. Seek and leverage others around you to tackle the challenges you face. Lastly, education is so important. I encourage all girls and young women to stay in school and take advantage of their education to achieve their goals."
It is clear to us that both Rhonda and Sammons are passionate about uplifting the girls and young women of our community. We are grateful to have their various forms of support and look forward to continued partnerships. Thank you, Sammons!