Volunteer Spotlight: Alyssa Zipperer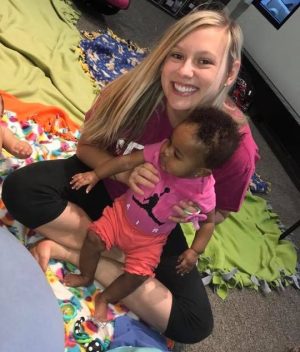 Alyssa Zipperer has been a dedicated childcare volunteer for more than three years with the Young Women's Resource Center. Her consistency and warm personality has provided a sense of comfort and security for the moms and children she serves.

Alyssa learned about the YWRC after she graduated college and was looking for a way to get involved in the community.
"I have always enjoyed spending time with kids — and volunteering at the YWRC during their Young Mom's program allows me to do that.
It's great getting to know the amazing kids, moms and fellow volunteers that are involved in the YWRC. My favorite thing to do as a volunteer is caring for the babies. They are so small and love to snuggle at that age."
Throughout the last three years, Alyssa continues to have a favorite day of the year with us. Each year, we have a fall celebration for all of the Young Moms and their children.
"All the kids and moms wear their costumes and walk around the building to trick of treat. It's so fun to see them all dressed up and so happy."
In addition to simply enjoying her volunteer work, Alyssa also recognizes its importance. While the YWRC is her main focus, she has also volunteered with several other organizations.
"I think volunteering is important because it is a really easy way to give back to your community. And knowing you are making a difference in someone's life — no matter how small — is very rewarding."
This strong sense of community is thanks in part to Alyssa's mom.
"I always looked up to my mom growing up, who spent a lot of time volunteering with different organizations in my hometown. She showed me how important it is to not take anything for granted and the positive impacts of helping others."
Alyssa's advice to girls and young women is to never give up.
"Life may seem difficult sometimes, but if you work hard to focus on reaching your goals, it will pay off in the long run."
Three things you may not know about Alyssa:
She has visited eight countries in two years, including spending a month in Ecuador.
She has always enjoyed kids and can't wait to have some of her own when she is older.
She went to Drake University to study Marketing and PR and now works at a local marketing agency.
THANK YOU to Alyssa for her steadfast support and ongoing commitment to our childcare program. We have no doubt that she has made a significant, positive impact in the lives of our young moms and their children, and hope she'll continue to be with us for a long time!