Board Spotlight: Amanda Young
This month's spotlight feature has played an active role with the YWRC for the last eight (!) years! We are thrilled to show our appreciation for Amanda Young through this Board Spotlight. Amanda worked with our staff and the interim executive director in 2014 and 2015 on team building and role clarity training and exercises, as well as communication skills.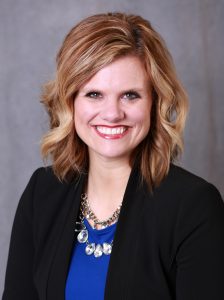 She joined the YWRC Board of Directors in 2016 at the request of then board member Tina Smith-Fritz whose term was ending. "She asked me if I would be interested in taking her spot, so I applied and the rest in history!" Amanda has also volunteered her time for multiple participant events, projects, and as a server for our annual Celebrity Servers Night event.
Amanda's unique experience and set of skills have been invaluable to the YWRC team.
"I've been in human resources and training & development for 22 years. With that experience I've been able to serve as a subject matter expert on governance and program committees to support the executive director, staff and board members as we develop policy, create program success metrics, and look at the total employee experience. My favorite part of this is I can contribute uniquely to an already very talented staff and board and our skill sets are complementary."
These contributions have not gone unnoticed. Kari Zimmerman, YWRC Executive Director, has this to say:
"Amanda has played an incredibly valuable role as board member through her six years. She offers so much wisdom and guidance when it comes to HR matters, employee relations, and communication. She excels at listening and coaching and you always leave an interaction with her feeling heard and supported. Thank you for investing so deeply in this agency and impacting thousands of local girls and young women. You will truly be missed, Amanda!"
Amanda's passion for empowering young women is one reason she has continued to volunteer her time and talent for such a significant amount of time.
"Building self-esteem for young people is important to me. I am raising daughter and I want to her to feel good about her body, knowledgeable about her rights, and confident in her voice. I want that for other young girls, moms, and those who identify or are socialized as females, as well."
Amanda remembers one of the first times she saw how YWRC programs and services deeply impact participants.
"One of my first board meetings when we were able to serve food to the young mom's group at the Center stands out to me. There was a mom there that was 12 years old…12 years old. I couldn't even remember what I was doing at 12, but I know it was probably self-centric, carefree and focused on the moment. I was not responsible for a life more important than my own at that age, I know that. This was an ah-ha moment for me. In that moment, I saw with my own eyes, how important the resources of the Center were to their participants and that many literally couldn't live without them."
One quote that has stuck with Amanda and helps guide her work is, "To whom much is given, much will be required."
"I was born into a loving and supporting family that always taught me to pay it forward and never take for granted what I have or judge the experiences of others on a surface level. Being involved with community organizations allows you to be pay it forward and understand the circumstances of those you serve better. It makes you challenge your assumptions, something I believe is critical to personal growth."
Amanda's commitment to being an active member in the community extends past the YWRC.
"I volunteer with the Juvenile District Drug Court Collaborative as they work to recognize youth successfully going through rehabilitation programs for drug and alcohol abuse and getting their lives back on track and sometimes their records expunged. I also work with the Women United Investment Committee looking at grants for funding in the early childhood education space."
Amanda's commitment to thinking and acting beyond herself is influenced by the role models she had growing up and still has today.
"I was lucky my role models growing up, and today, are still my parents. My mom taught me a sense of community larger than just my family unit. She taught me the importance of using my voice when something isn't right, even in uncomfortable situations. From my dad I got ability to genuinely care and see the good in people and how to effectively use diplomacy to insight change. I not only love my parents, but I have a great deal of respect for them."
The advice Amanda has for youth today is:
"Be You. Everyone else is taken. Hopefully in your life you will get the opportunity to have many wonderful mentors that give you invaluable feedback. Occasionally you will run into people who will tell you things to change about yourself that make them more comfortable with you.  Be able to tell the difference. Only own insight where the intent is honorable. The rest you discard. Don't allow garbage to clutter up your beautiful mind."
When she has free time from her work and volunteering, Amanda enjoys spending time with her three kids and husband "(dance competitions and ball tournaments mostly ?)", reading in a hammock, and at the lake with her family.
Three things you may not know about Amanda are:
She is an only child
She loves to snow ski
"I love to dance and use to be decent at it. I love to sing, was never good at it, but love it still the same!"
Thank you, Amanda, for the countless hours and energy you've given to the YWRC. Thank you for your steadfast commitment, warmth, and uplifting support.