Board Spotlight: Anne M. Howsare Boyens
We are excited to celebrate Anne M. Howsare Boyens, who has been serving on our Board of Directors since June of 2015. Her energy, work ethic and commitment to our girls and young women are a true asset. We would also like to celebrate Anne being named as the Provost at the DMACC Urban Campus earlier this year.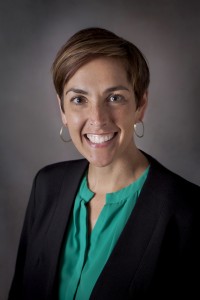 Anne first got involved with us when she was searching for a meaningful way to become more engaged in the community. Through reaching out to a YWRC employee, Anne was soon connected with the Board President. Soon after, she applied for and accepted a position on our board.
"I feel the mission of YWRC aligns with my personal beliefs and mission. Serving on the Board and the Executive Board to volunteer my administrative skills is a great fit. Also, in my work as the Provost at DMACC Urban Campus, the Center's clients are often our future and current students. Using the opportunities on the Board and various committees to talk to staff about educational opportunities is an excellent way to spread the word about access to higher education."
Attending meetings is Anne's favorite part of serving on the Board.
"I really enjoy the board meetings. We have an incredible group of people who are dedicated to the success of YWRC, and also just happen to be fun to be around. Hearing from the staff and the executive director about all the innovative programming that is happening at the Center really validates that I am supporting a truly exceptional organization."
Anne's connection to our community doesn't stop with her involvement at the YWRC.
"I live, work and send my kids to school in this community. If I can dedicate even a small amount of time to assist in its betterment, I would be remiss not to do so. I have recently joined the Neighborhoods of Oakridge board as well as the United Way of Central Iowa's Agency Directors Council. Plus, Des Moines is getting to be a pretty cool place to be."
In learning about Anne's childhood and current role models, her parents, it's easy to see where her commitment to education and community comes from.
"Both in growing up and today, my parents have been incredible models of hard work and stability. Both my mom and my dad started out as high school teachers and both moved into different areas of education, counseling and administration respectively. Even today as they have both retired, they still are dedicated to public education and to the kids and young adults in Des Moines.
My mom serves on the Urbandale School Board and my dad is still tapped as an unofficial consultant for public school districts across the state. My younger brother and I both decided at a young age we wanted nothing to do with education, but he is now a teacher at Waukee and I'm in higher education – obviously their ideal for us to lead compassionate lives and dedicate ourselves to making our society as strong as it can be paid off."
Anne's advice for girls and young women demonstrates how similarly aligned her passion and the YWRC's mission are: "Don't ever lose who you are."
A few 'little known facts' about Anne:
 I like to garden, but I am not very good at it. I am constantly surprised by the veggies that come up in my raised bed.
My son (6 years old) and my daughter (11 months) are literally the funniest human beings on the planet.
I am a foodie, but an exceptionally poor cook. Thankfully my husband is a great chef.
In the summer, I love to watch my kids play in the yard while my husband and I enjoy a glass of wine. In the winter, there isn't anything better than curling up with a good book that has very little academic value.
Thank you, Anne, for your steadfast support not only of the YWRC but of our community as a whole. We have no doubt that we're better off for having you as one of our champions.