Supporter Spotlight: Bank of America
We are pleased to spotlight Bank of America this month for their generous support of the YWRC through the 2022 Neighborhood Champion award. We are honored to receive this award and to be recognized for our work to remove economic barriers and advance economic opportunity for girls and young women in the Greater Des Moines community. This invitation-only program is highly competitive, and organizations are selected by a committee comprised of community leaders and past Neighborhood Champion honorees.
As part of the Neighborhood Champion program, we received a $50,000 grant that will allow us to develop our next strategic plan to guide our work and impact throughout Greater Des Moines.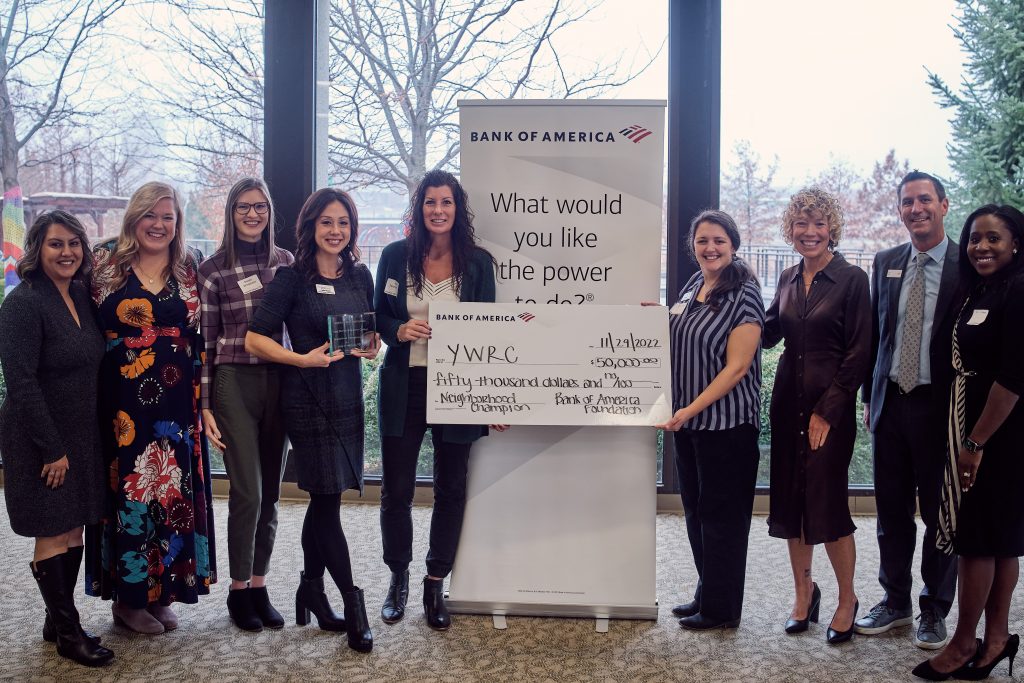 "The funding from Bank of America will help YWRC to understand critical service gaps in the community and implement new initiatives to address those needs and reach additional people in the area," said Kari Zimmerman, executive director of YWRC. "We will be able to hire an experienced consultant to help guide us through the process of creating a high-quality strategic plan aimed at increasing the number of participants served and yielding positive outcomes for youth."
The award also includes the opportunity for an emerging leader of our staff to participate in leadership development, along with our Executive Director. This training will be delivered by experts in the nonprofit sector on topics like human capital management, increasing financial sustainability, and storytelling.
"Nonprofits are the backbone to our local community as they are on the ground working closely with individuals, families and community members to understand the obstacles many are experiencing and developing programs and services that will help alleviate or eliminate these barriers, helping them chart a path toward economic opportunity," said Heidi Parkhurst, president, Bank of America Iowa. "It's important that we direct not only capital, but the necessary resources and training to help position YWRC and its leadership team for long-term success as the organization grows strategically to make a positive impact."
YWRC is thrilled to receive this award from Bank of America. Their support will ensure that we can continue to empower our participants through services that advance economic opportunity and remove economic barriers. This includes our Individual Support Program, which empowers pregnant and parenting young moms to meet their basic needs so that they can focus their time and energy on achieving their education and career goals.
The Neighborhood Champions program is an extension of the bank's signature philanthropic initiative, Neighborhood Builders®, the largest corporate philanthropic investment in nonprofit leadership in the country. Through 2021, Bank of America has invested $6.3 million in 126 organizations within 42 communities through the Neighborhood Champions program.
In addition to naming the YWRC the 2022 Neighborhood Champion, Bank of America awarded grants to eight nonprofits across Iowa including: Evelyn K. Davis Financial Empowerment Center, Mid-Iowa Health Foundation, Habitat for Humanity Quad Cities, Cedar Valley Habitat for Humanity, Greater Des Moines Habitat for Humanity, Neighborhood Finance Corporation, Polk County Housing Trust Fund, and Iowa Historical Foundation.
Learn more at about.bankofamerica.com, and connect with them on Twitter (@BofA_News).