Duha – YWRC client
Who I am
My name is Duha Kowa. I am 13 years old, and I joined the YWRC when I was 10 and in the 5th grade. My elementary school counselor, Mrs. Howe, came into my classroom and talked to all the girls in my class about the groups at the YWRC and what they do at the center. It sounded like a lot of fun so my friends and I all joined at the same time. I have been coming ever since.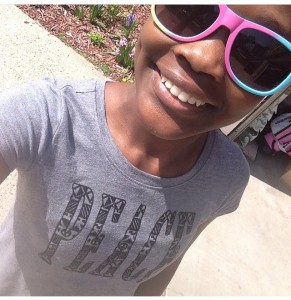 Where I came from
I came to the U.S. around the age of 16 months. I was basically a baby. I moved from Cairo, Egypt with my Mom and Dad. I grew up in Des Moines but moved to West Des Moines in February of 2014. I'm getting pretty good at knowing where stuff is at in our new location, but in Des Moines I can practically lead you to the nearest gas station from wherever. I also come from a Muslim family, which is amazing. My whole family is Muslim so we understand each other very well. It's a blessing to have a family that understands you as much as you understand them.
My support system
My support systems are my family and friends. They always cheer for me in my competitions and help me out when I'm stuck in the mud. They also care enough about me to help me out in my situations, which I am extremely grateful for.
What I like to do
I love to hang out with friends and participate on athletic teams, such as dance. I love dancing in my studio, as well as doing taekwondo and swimming at the Y. I especially love competing in these sports; for example with dance, you get to dance with your friends on stage in front of judges with the spotlights hitting your face every time they hit your costume… it's AMAZING!
What I do
I do a lot of things, actually. I help around my community with different projects, such as planting new plants during the summer and on Earth Day and sometimes Arbor Day. Although, I don't have a green thumb, I can plant things pretty decently. As I have already mentioned, I also participate in athletics and in fundraisers. One of my favorite fundraisers has been Pennies for Patients, the donation of pennies for kids with Leukemia.
What it's like to be me
I would think, it's very hard to be me. If you knew all of the things I juggle in my mind, you would probably be on edge all the time! With thinking about my assignments, birthday party invites from friends and my extra-curriculars… oh my gosh, it would be a stuggle. But the silver lining of things is that I can be pretty laid back sometimes. I usually get my homework and assignements done and turned in on time, or even early! It also helps that my extra-curriculars kind of ease my mind because I love all of the things that I do.
How I get by
I can always get by with my phone, a planner and a calendar. If I have all three of these things (including internet for my phone, of course) I am absolutely fine. As mentioned before, my life can be quite chaotic, so I absolutely have to finish the things I have to get done that day or before that day. As for my phone, well duh, social media! I have to know what's going on! With these three things, I'm all set for life.
What I'm learning
I'm learning lots of things, actually. In school, we are learning about amphibians, such as frogs, toads and salamanders. At home, my parents talk to me about the dangers of drugs and alcohol. I know these things are terrible and wouldn't think about doing them, but I still get my ears yapped into because my parents just want to make sure… you gotta love 'em right?
My hopes/dreams/goals
I would love to become a pancreatic surgeon so I can help people with the deadly disease of pancreatic cancer. I would also want to continue dancing on the side, maybe being a part-time dance teacher. I have been dancing since the age of three, and still feel like I am obligated to keep doing it, not just to show off, but because I love it! I will accomplish these goals and dreams because if I can dream it, I can achieve it.