Volunteer Spotlight: Erin Haberman
Volunteers continue to be a crucial component of the YWRC's success. We are grateful for the time and talent these community members give. This month, we are excited to celebrate one of our most consistent volunteers, Erin Haberman.
Though Erin's involvement with the YWRC began as a way to fulfill a volunteer requirement, it quickly became much more.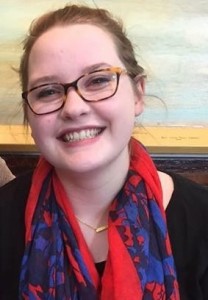 "I originally was looking for volunteer opportunities in Des Moines to meet a service requirement for my sorority. I was looking for an opportunity where I could spend time with children because I have always loved kids and find them to be very rewarding to work with. Once I found the YWRC, I knew that this was an organization I would want to continue supporting beyond my service requirement."
This January marks the one year anniversary of Erin's commitment to the youngest members of the YWRC family. Each week, Erin volunteers her time by providing childcare to the babies and toddlers of our young moms. Her consistency in childcare provides great comfort to our young moms and their children. Having familiar faces at check-in is especially helpful for our young moms and babies who feel hesitant about being apart from each other. Volunteering weekly also allows Erin to see the growth and changes the children go through.
"I love seeing the children grow and getting to interact with them once or twice per week. There are babies that were tiny when I started volunteering and are now so big, walking and have incredible personalities. It's amazing to see the kids grow into their own person."
In addition to the excitement of watching the children grow, Erin also appreciates the perspective volunteering lends.
"Volunteering helps you to remember to take a step back and realize that there is so much going on in the world besides your little piece. I feel encouraged to try and make an impact on as many little pieces as I can. I continue to volunteer for the YWRC, not only because of how amazing the moms and kids are, but also because of all the services they provide. I think it is so important to support these girls and young women."
It's fitting Erin found her place with us through involvement in the Young Moms programming, as she recognizes the importance of strong female role models for children.
"I have always looked up to the women in my family; my mother, sister, cousin Brittany and Grandma Gwen. The older I get, the more my mother inspires me. She raised me to be the woman that I am today by encouraging education and curiosity throughout my life. Mothers really are the silent heroes and I have learned to appreciate that even more."
Erin hopes to pass along to the next generation the same encouragement her mother showed her. The advice she would offer to girls and young women is to, "let your passions shine! Everyone has good days and bad days, but try to remember that you are a special, unique individual that is capable of more than you can imagine. Find what you love and invest your time in this, because this is where you shine brightest."
In addition to her valuable 'baby-whisperer' skills, we are grateful for the thoughtfulness, care and motivation Erin brings to her volunteer work with us each week.
Sarah Mowitz, volunteer coordinator, says it best; "I'm always impressed by Erin's passion and dedication to the YWRC. She's dependable, enthusiastic and knowledgeable. She's proven herself to be a true leader in the childcare room. It's hard to imagine our volunteer team without her!"
Thank you for being part of our team, Erin!