Board Spotlight: Jill Lippincott
The YWRC has had the privilege of receiving Jill Lippincott's support for six years. She has been an active volunteer throughout this whole time and is always willing to step in to help.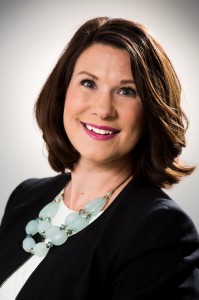 "I became involved with YWRC through the recommendation of a friend who was involved in the organization, believed in its mission and was aware of the opportunity to serve with YWRC's Young Empowerment Partnership (YEP) group. YEP brings together young adults to support and raise awareness of the mission of the Center through volunteerism, education and engagement with the community. After six years of involvement in YPC, including serving as the liaison to the board and attending board meetings, I was formally added as a board member in November 2018.
I have served as a volunteer at the YWRC's holiday party each year, typically helping the children of young mom's make crafts for their mothers while they are enjoying a holiday meal. While the room is often full of kids and can feel chaotic at times as we try to help very young children with a craft, the special gift that is created is something that the young mom's treasure. So often they are getting gifts for their children, but don't receive gifts of their own during the holidays, and it is always a touching moment when they receive their gift – a reminder of how important they are to their child and that they deserve to be honored during that time of year as well."
Jill's own life experiences help to fuel your commitment to and passion for the YWRC's work.
"After being a young mom myself, I embraced the mission of YWRC to educate and provide resources to young moms in our community (in addition to child care and a meal). Additionally, after recently raising a middle schooler, I am very passionate about the empowerment work that the YWRC does with middle school young women so that they can be strong, self-confident and successful in their future endeavors!
 Through learning how YWRC is serving young women in our community, I also gain a better understanding of our community as a whole, and the issues that many young women face. Some of those issues are environmental, institutional or generational, and attending board meetings and learning from staff about the programs they deliver always gives me a better understanding of how I can be an advocate on the board and in the community for these issues."
Being an active member of our community is important to Jill. In addition to the YWRC, she also volunteers with the Greater Des Moines Leadership Institute on the Community Leadership Program's Curriculum Committee and serves on the Housing Services Board for the City of Des Moines.
 "Being involved with community organizations such as YWRC is a way to stay connected to the community that we live and are a part of. In many ways, serving with YWRC has benefited me more than I feel I have benefited the organization. I truly have a deeper sense of identity with my community because I'm able to give back, and I am more aware of the ways that we can all work together to make the community better as well."
Jill has several sources of inspiration from when she was growing up, and still today, that help to keep her motivated:
"Trixie Belden: She was a fictional character in a book series I read growing up (I still have copies of her books that I can't bear to give up). Trixie solved mysteries with the help of her friends, but was very curious and had a knack for putting various facts together that were seemingly unrelated to solve a problem. I identified with her because she was very connected to her family, occasionally stumbled over her own two feet and made a fool of herself, but always got back up and helped others with the challenges they were face with her sleuthing skills! I appreciated being able to read about a character that was very smart but was also very human and relatable.
'The Unsinkable Molly (Maggie) Brown': While she is most famous for surviving the Titanic, Ms. Brown also had a big personality, a big heart and used her family's legacy to support  and advocate for several human rights and social causes, such as rights of workers and women, and education and literacy for children. She is a survivor in more ways than one, ran for a Senate seat in Colorado at one point, and toward the end of her life, even became an actress! She is an example of someone who never stopped "going" and was truly unsinkable no matter what life threw at her.
Serena Williams: Serena has always had amazing grit since she was young, overcoming many obstacles just to play the sport that she loved. As a result, has had an incredible career, even after becoming a mother. Serena successfully balances her passion for her sport, her family and her own business endeavors, and is an advocate for young women and equality."
Facing the impossible and striving to overcome difficult situations is something Jill is familiar with. Determination and strength are two of Jill's greatest assets, so we of course wanted to hear her advice for girls and young women today:
"Whenever I am faced with challenges that I do not feel are possible to overcome, I am reminded of an Eleanor Roosevelt quote: 'You must do the things you think you cannot do.' It reminds me that even though something seems impossible, it is often not the case – especially when I remember that I don't have to do it alone. I often rely on many of my friends and mentors to help through challenges. They either give me advice or just help bolster my confidence so I can take the challenge on, head on. My advice to young women is to find your squad – the group of people that you can trust who can help you through difficult situations – and you'll find that you can do the things you think you cannot do."
When she's not volunteering, Jill enjoys cycling, kayaking, hiking (when I can make it to my former home state of Colorado), reading and spending time with her husband and family.
"Since my son and stepson (ages 16 and 10) are very active in various activities, a lot of our free time is spent attending their school activities!"
 Three facts you may not know about Jill:
 She has been an 'extra' in two movies and one episode of Unsolved Mysteries that were filmed in Nebraska where I grew up
She has climbed 7 mountains above 14,000 feet (referred to as '14'ers' in Colorado)
She has performed in Carnegie Hall. As a senior her choir took a trip to NYC and had the opportunity perform on stage in front of a crowd. "It was an incredible moment!"
 Thank you, Jill, for your unwavering passion, dedication and support. We know we can always count on you, whether it's helping with events, sharing new ideas or connecting us with new friends. Thank you!