Volunteer E-News Highlight: New team members Joyce and Julia
Hello, volunteers!
I'd like to introduce you to two new YWRC team members. Please help us give a warm welcome to Joyce Levingston and Julia Mason Gray! Joyce is our Senior Program Director and Julia is our Senior Director of Development. You'll be hearing from Joyce and Julia in the near future for special volunteer opportunities with Empowerment Workshop, YWRC Gala, and more. I'm pleased to share more about Joyce and Julia with you here.
Joyce joined our team in October 2021 as the new Senior Program Director. She grew up in Cedar Falls, Iowa and is a two-time graduate of University of Northern Iowa (UNI).
"I completed my Master's degree in Leisure, Youth and Human Services and now am finishing my doctorate in Education hoping to graduate in May of 2022. I have four children; one in college at UNI, two in High School in West Des Moines, and one in 6th grade. My favorite hobbies include taking my dog Boomer everywhere I go. Watching Netflix with Boomer. Telling jokes to Boomer.
I also enjoy volunteering in the community or for the schools with my children. I'm a very hands-on parent and love seeing my kids grow into the young adults they are becoming. The last month at the YWRC has been amazing and I've learned so much from everyone here and look forward to Lilianna's friendly face every morning. I love working with and value diverse groups of people and I love learning new things every day. Please feel free to show me pet pictures anytime!"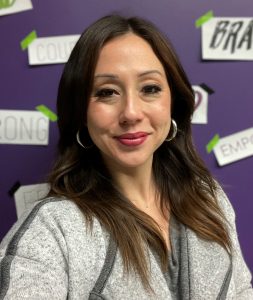 Julia Mason Gray has joined the team as the Senior Director of Development in November 2021. She has more than ten years of experience in fundraising and events, and enjoys working with program participants, boards, volunteers, committees, and staff in the nonprofit sector. Julia was most recently with the Des Moines Art Center in the role of Manager of Membership and Volunteer Initiatives, where she oversaw the annual membership program and managed three volunteer advisory boards to plan activities and events for members. During that time she also served as the Chair of the YWRC's Ambassador Committee, working to engage the next generation of YWRC supporters through activities like the perennial favorite, Sex Trivia. Julia holds a Masters Degree in Arts Management from George Mason University in Virginia and a Bachelors degree in Studio Art from the University of Northern Iowa.
"I have two young children, Milo and Juniper, and live with two kooky dachshunds (Huckleberry and Maybelle) and one spicy kitten (Bingo). I'm proud to be part of a team that helps empower girls and young women in our community to be self-confident and resilient, and look forward to getting to know our loyal volunteers!"
Stay tuned to learn more about the ways you can get involved as a volunteer with programs, events, special projects, meal donations, childcare, and more. Have questions or ready to sign-up? Review info about our volunteer program here and/or email me directly.
Thanks everyone,
Susana