Volunteer Spotlight: Julie Weichman
This month, we are excited to celebrate one of our long-term volunteers, Julie Weichman.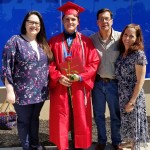 Julie first learned about the YWRC while looking for volunteer hours to complete for her Masters in Nursing degree in the summer of 2012. Since then, she has volunteered with us in several roles. Her favorite YWRC role is that of Childcare volunteer, especially when she's able to read or play with the toddlers in the childcare room.
"Spending time in the childcare room is fun. Playing with children is something I miss since both of my children are adults. I also love to cook and bake, so providing a meal gives me an opportunity to do something I enjoy. One summer I developed an activity for the summer program. I interacted with two groups of 8th going into 9th graders. It was fun for me to interact with them, and experience their personalities at that age."
Julie is committed to improving our community through meaningful volunteer work.
"I have been extremely fortunate in my life. While I want to 'help others', I want that help to be meaningful to them, and actually help them to improve their life. At YWRC I see that happening.
Being a mom and nurse, I like to help and care for others. I do not like to just donate money for a cause. The mission of YWRC is great. Empowering females to live to their potential is what our society needs more of."
The dedication to helping others is something Julie's mom, and biggest role model growing up, demonstrated daily.
"She was always selfless, and did whatever she needed to do to make sure my brother and myself had what we needed. She also was a huge cheerleader for me, telling me I can do anything."
Julie is also inspired by Florence Nightingale and her ability to make "so many amazing advances in nursing, with so little resources. Being a nurse at heart, I am totally in awe of her accomplishments!"
Understanding the importance of strong, positive role models is just one of the many reasons we appreciate Julie and all of the time and talent she's given the YWRC. Her advice for our girls and young women:
"Life is hard, and full of bumps and curves. It really sucks sometimes, but do not give up! Keep trying and growing. It is so worth it in the end."
 Thank you, Julie, for all you have done to support the YWRC throughout the last six years – we know we can always count on you!