Supporter Spotlight: Kayla O'Connor
This month we're pleased to introduce you to Kayla O'Connor, a member of the YWRC community who focuses on cultivating student engagement at Hiatt Middle School! Over the past few years, Kayla has been a key partner in ensuring Empowerment Groups have continued running smoothly at Hiatt.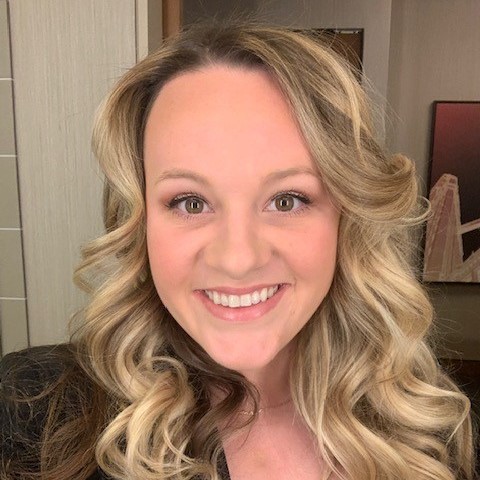 "I am the Student Engagement Coordinator at Hiatt, which means I am in charge of finding ways to get students connected to the school through clubs, activities, and events. I also try to bridge the gap between elementary school to middle school, and middle school to high school by doing school visits, reading to kindergarten students, and more."
In addition to her primary role as the Student Engagement Coordinator, Kayla is also a teacher mentor for first year teachers and on the Staff Leadership Team at her school.
Kayla's enthusiasm for connecting with students and seeing them become further engaged in their school community is evident.
"The most rewarding part of my role is seeing the excitement students have when participating in activities. I love seeing them compete and challenge themselves to do something new. I also love creating events and "moments" for students. I want to create memories through activities. I also love building relationships with students. It is so much fun to show up to cosmetology club and get my nails done or do a student's hair, go to a basketball game and cheer on the students, and attend a girls' group and bond through conversation."
Kayla does everything she can to help students succeed both inside and outside the classroom, but there are challenges. "The most challenging part of my role is the 'F word' of education which is funding. I have a lot of ideas, but those ideas cost money which is sometimes hard to come by in education."
The first time Kayla became involved with the YWRC was three years ago when she helped create Empowerment Groups for the students at Hiatt. Since then, she has worked to make sure the groups continue to be offered year to year.
"For the past three years, I have worked with the YWRC to create girls' groups at Hiatt. We have held girls' groups before school for the past three years, even during a pandemic. We have had Empowerment at our buildings which has served young woman at Hiatt in all grade levels. Even during a pandemic, the YWRC was willing to meet virtually, drop off supplies to me to deliver to students, and then finally at the end of the year, we were able to meet in person."  
Chelsea Moore, our Empowerment Program Specialist who facilitates groups at Hiatt, shared the following:
"Kayla has demonstrated the value she places on our programming by continuously recruiting students to be a part of our groups and doing her best to make sure they attend each week. This past year, in particular, Kayla coordinated groups for us both virtually and in-person. I know that virtual coordination was neither ideal, nor easy, but she still made it happen. It was incredible transitioning back to my first in-person groups at Hiatt this past spring and finally feeling that "energy" and satisfaction of sharing physical space once again. Kayla is kind and charismatic and it became evident to me – through seeing her interactions with students and hearing the positive ways in which they spoke about her – that she is a gem to have in our community."
Kayla believes it is especially important to create opportunities for young women to support and connect with their peers, as well as build relationships with facilitators.
"I preach sisterhood to young women all the time. The YWRC helps young women connect with each other and gives them a safe space to be open, be uplifted, and be supported all while teaching and answering questions they may not get answered from other adults in their lives. Before being at Hiatt, I was a Family Consumer Science Teacher at East High School where I taught Relationships and Sexual Education. YWRC is offering a safe space for young women to be free, ask questions, and have a positive role model in their lives on a consistent weekly basis."  
This passion is inspired in part by several women who have served as Kayla's role models and support system throughout her life.
"Kim, my mom, and Edna, my grandmother are my role models past and present. I don't have any famous person to look up to but I do have a circle of woman in my life: Emily Lang, Virginia Martin, my sister Ashley O'Connor, Ashley Masten, Tiffany Braxton, and a group of former students who always lift me up and pour into me."
Kayla's grandmother Edna gave her the advice that she now shares with today's youth: "If you ever feel you need to call someone for advice, you already know what you need to do but you are too afraid to do it. You need to learn to trust yourself and your gut instincts. Trust yourself. Period. No one has your back like yourself."  
When Kayla isn't busy fostering student engagement at school, she can be found enjoying everything Des Moines has to offer.
"I love the art festival, farmer's market, and the food festival here. I also love the Iowa State Fair. I am a foodie so I love being able to try out new restaurants in Des Moines. Des Moines is big enough where there is always something to do but still small enough to know someone everywhere you go."
Three things you may not know about Kayla:
She has blown up three microwaves on accident throughout her life so far.
She has two children, Maleigha (2.5 years old) and Hendrix (1.5 years old).
She is double jointed in her fingers and loves 90's/2000's R&B.
Thank you, Kayla for everything you do to keep Empowerment Programs running smoothly at Hiatt Middle School. We are so fortunate to have you as part of the YWRC community.