Board Spotlight: Karman Hotchkiss
This month we're excited to introduce you to one of our board members, Karman Hotchkiss.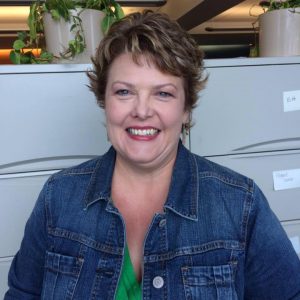 Karman first became involved with the YWRC several years ago after making a donation and currently serves as our Board's Vice President. She began following our mission and activities and was impressed with the ways the YWRC centers young women and their unique needs. When an opportunity to join the board came up, Karman didn't hesitate at the chance to become more involved with the YWRC.
"When a coworker was retiring from the board a few years ago, and he asked if I knew of anyone who would be interested in serving, I was excited to raise my hand. After an inquiry period, meeting with the director and other board members, I was thrilled to become officially part of the board, the Center, and its work."
Karman's passion for ensuring girls and women reach their full potential and have their needs met is clear.
"Working with the Center has taught me a lot about ACES (Adverse Childhood Experiences) and the concept of resiliency and resiliency skills. I love how the Center helps young women find their voices and shows them that they have the ability to thrive no matter what's thrown their way.
I also have a soft spot for the Young Moms group. Being a mom is tough. At ANY age. I'm in awe of the many ways the Center supports young moms at every stage of motherhood, from doula services that help moms feel strong and advocate for their own health and their baby's … to helping moms navigate school, housing, and other necessities. I'm proud to do what I can to ensure that these programs can continue to serve young women."
Erin Moran, YWRC Communications Director, works with Karman on the organization's Marketing Committee and had this to share:
"Karman is always ready to ask questions, share ideas and offer help. Whether we're working on an upcoming campaign, brainstorming content for publications, or proofing materials, I can always count on Karman to give thoughtful feedback while centering the YWRC's mission."
Karman's involvement with the YWRC and other community groups is an important way for her to feel connected with the greater Des Moines community. "It's easy to be isolated in my own little part of the world—my job, my neighborhood, my school. Serving the YWRC and other community organizations opens me up to a larger Des Moines. To understanding and sharing the lives of others whom I might not otherwise meet."
Karman's favorite part about being on the board is "seeing and hearing the stories of clients who have overcome adversity to prove they are strong young women—and that they see that strength in themselves."
She observed that strength one night when serving a meal at the Center. "One of my favorite evenings ever at the Center was serving a meal on the night of a Young Moms meeting. It was incredibly moving to meet both the expecting moms and the moms with kids. It struck me how young they all were, and how determined they were to be great parents."
Karman's role models have shaped her desire to see girls and young women succeed and overcome challenges. "Teachers were my role models when I was growing up. Probably because they were the women I could see, doing jobs I understood. Which reminds me today of how important it is that girls see women doing a variety of things—jobs, volunteering, parenting. It's like the saying goes: You can't be what you can't see."
"Today my role models are women doing the hard things. Single parenting. Fighting injustice. Living alone in a pandemic. Working from home while helping their kids do online school. Working multiple jobs while attending school."
Karman's advice to girls and young women today: "You are worth it."
Outside of spending time with the YWRC, Karman has also been a member of United Way's Women United group and served as the 2019 co-chair of her company's United Way campaign. She also volunteers in various ways at her church.
When she's not busy volunteering or working, Karman enjoys spending time in her garden. She admits that her garden probably saved her sanity during the pandemic. "The ability to get outside, putter around, accomplish something visible … it helped me whenever I felt overwhelmed and under water." She also enjoys sewing and crafting—especially making quilts.
Three things you may not know about Karman:
"I lived in 14 houses by the time I was 17 years old. Now I've lived in the same house for 20+ years.
I am the oldest of 9 children. My dad used to tell people we were all his wife's children by her first husband—neglecting to mention that he WAS her first husband. Haha.
My secret passion is reading Pride and Prejudice fan fiction."
We continue to be grateful to Karman for all of the passion, insight and hard work she has given us at the YWRC over the past few years. We are lucky to have her as part of our board and Marketing Committee, and look forward to all we will continue to build together.