Volunteer Spotlight: Karen Henderson
This month we are excited to celebrate one of our most active, dedicated, and long-term volunteers, Karen Henderson.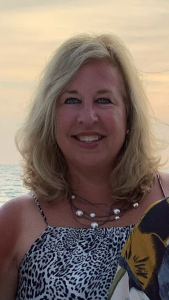 Karen has done it all throughout the past 11 years. She served as a member of our Board of Directors, volunteered as part of our gala committee, provided cookie decorating supplies for participant holiday parties, hosted a Cheers Party on our behalf, helped with strategic planning, attends many of our events, gives generously, provides monthly meals for the Young Moms Program, and serves on our Advisory Board. In addition to her steadfast support, Karen also lends her friendliness and warmth to all she encounters. Thank you, Karen!  
We asked Karen why she continues to volunteer with the YWRC, and what got her started. Her first introduction to the YWRC was through former Board President, Beth Coonan. Beth reached out to Karen as a potential board member and shared the YWRC's mission with her.
"I was immediately interested in the education component, involvement of younger ages, and mission of the center. I applied for a board position then. The purpose/mission of this organization is inspiring and energizing. To see the success in these girls' lives is rewarding and makes what we do all worthwhile. I volunteer in hopes to make a difference in these young girls' lives, to help them to be successful."
Karen's involvement has been far reaching and spanned many facets of the YWRC. It's no surprise to us that one of her favorite volunteer roles included bringing our community together.
"I encouraged 2-3 different neighbor groups to get involved in making Monday night meals with me (for Young Moms participants). We all enjoyed working and cooking together, knowing we were aiding in a successful Monday night learning experience. We had fun serving the YWRC. When you volunteer, you are doing good for others and helping provide success in your community – this provides a natural sense of accomplishment and gives your life purpose."
Karen's contributions to our community extend past her engagement with the YWRC. She also volunteers with Central Presbyterian Church through the membership committee and youth groups, and was a past session member of the church. She also volunteers with USCRI Refugee families and the Johnston School District vocal department.
Karen's passion for volunteering was instilled by her parents 'example.
"My parents were both involved in the community. My mom is 87 years old and continues to serve others – benefitting her community, feeling joy from being a team player, and moving the next generation forward in a productive, positive way."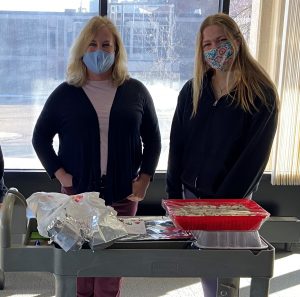 Modeling community involvement is something Karen strives to provide for her own daughter. The two often prepare meals for the Young Moms participants together. The advice Karen would share with today's youth is:
"You're truly one of a kind – always embrace that. Your life can be what you want it to be. Have courage. Be Strong. Count your blessings not your troubles. Be a team player."
Erin Moran, Senior Director of Communications and External Affairs, has worked with Karen for many years. "When I think of Karen, I think of generosity. She is generous with her skills, resources, and time. Karen greets everyone with a warm smile and presence, and lets folks know they are supported and appreciated. When staff learn that Karen is involved in a project, we instantly know she's got it covered. That whatever her role is, it will be done well and thoughtfully. "
Even though we've been working alongside Karen for 11 years, we continue to learn more about her. Here are three things you may not know about Karen:
She has a twin brother
She loves to swim for exercise and mental relaxation
She has sung in many weddings
Thank you, Karen, for your many, many years of volunteer work with the YWRC. Your contributions have helped countless local girls and young women to feel supported and valued. We hope you'll continue with us for the next 11 (or more) years!