Staff Spotlight: Jessica Kincaid
This month, we are excited to feature staff member Jessica Kincaid in our spotlight! Jessica has been with the YWRC full time for three years, but her time with us began earlier with internships in the summer of 2015 and winter of 2016.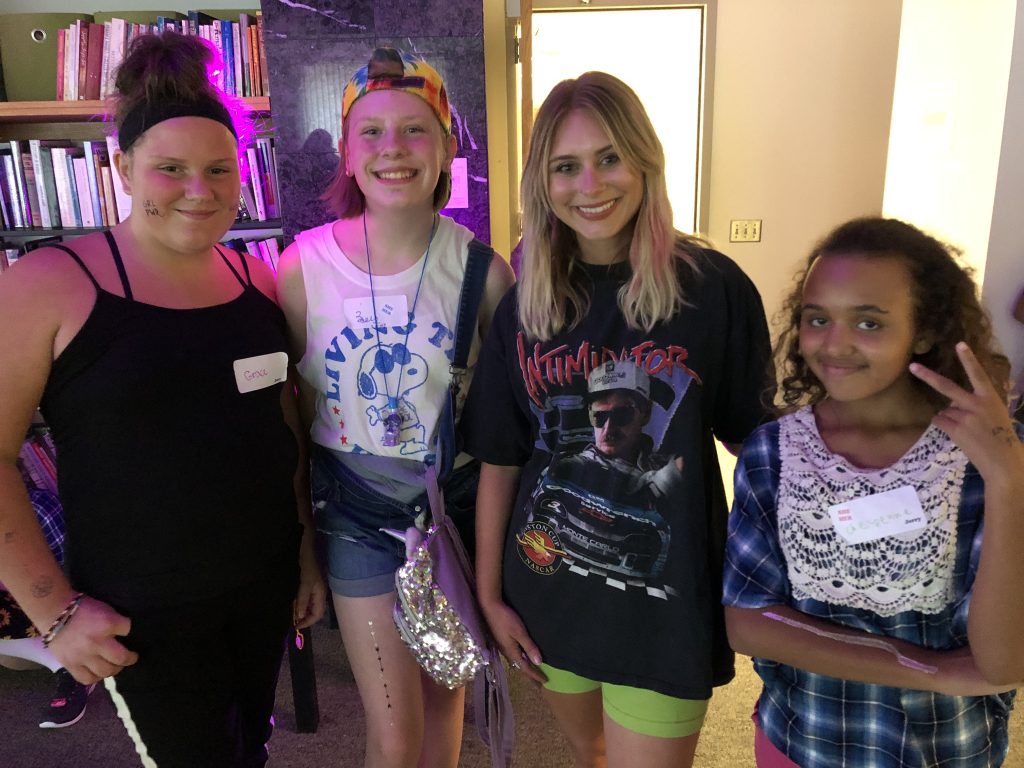 "The opportunity to intern here was sent to me by a pal in college. I read the mission and vision and applied that day. Once I met the team and the participants here, I didn't want to leave. Here I am 5 years later!
I've met the most incredible people here at the YWRC. Honestly, I could go on and on about the past/present staff and participants I've worked with here. I've learned so much from them."
The most recent role Jessica maintains with us is as an Empowerment Lead. In addition to planning and facilitating groups, she also co-leads the Empowerment team.
"I get to hang out with really rad 5th graders and middle schoolers every day! When I'm not facilitating groups, I'm doing a lot of planning, emailing and collaborating with my team."
It is clear to everyone who has the opportunity to see Jessica facilitate, that she has a true gift. Not only does she put in the hard work to develop her knowledge and skills, but also to ensure she is providing an inclusive, safe and encouraging environment for her participants.
"I get really excited about new ideas for curriculum, projects, programs etc. – especially when we get to implement those ideas and turn them a reality for our participants. YWRC staff members are truly passionate about what they do and the participants/clients they work with. It's really fun to collaborate with each other, taking an idea and seeing it through all the way to implementation."
Before Jessica began with us full time, she volunteered at several places and worked with youth at a school and daycare. She considers her first 'real' job to be her work with Orchard Place campus/residential, which she held for a few months before starting at the YWRC.
Several role models played a key part in Jessica's life growing up:
"My friends from middle school and high school – they taught me a lot about life during those important middle school and high school years.
And, my mom – of course! She taught me that it was okay to be yourself even if those around you didn't like it. A few of the biggest lessons she taught me were to live my truth, find what you love in life and do it, and when something/someone is no longer serving you, to leave it behind."
Jessica is an incredible, thoughtful leader and treats all of her participants with the highest level of respect. So with this in mind, we are happy to share her advice for youth today:
"My advice would be to seek out new things, never stop learning and to question everything. We have so much information readily available at our fingertips now, which depending on how we use it can be really helpful or really isolating. I think that it's really important to take time to learn/unlearn some of the messed up stuff we were made to believe was true about ourselves and our world during our childhood."
When she is not busy volunteering or inspiring local youth, Jessica can be found thrifting, seeking out vintage finds and creative unique jewelry.
"A lot of my clothing and house décor is thrifted/second hand. Over the last year and a half my partner and I have dipped our toes in selling vintage online and at pop ups! I've also challenged myself to find a creative outlet and started making earrings out of clay. I've given most of my earrings to friends so far – I love seeing them rock pieces I've made!"
Three things you may not know about Jessica include:
She's a Libra
She's an only child
She has three pets: 10 month old kittens, Pearl and Pepper, and Cody "the best rescue dog ever"
Thank you, Jessica, for your dedication to the YWRC. You are an inspiration to your team and we are so fortunate to work alongside you.