Staff Spotlight: Klarque Denman
We are excited to spotlight one of our newer team members this month, Klarque Denman! Klarque is part of our Young Moms team as a Childbirth and Perinatal Specialist. She is also a doula and supervises the YWRC's doula program.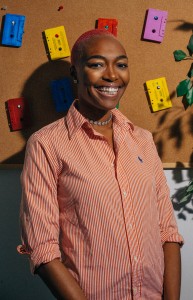 "I strive to help young moms with their needs, questions and overall success! I go to high schools and have small groups with the young moms during the week. On Mondays, I hold a night group for expecting mothers to help them learn more about childbirth as well as their mental health. I really love what I do, and the relationships that are built along the way are especially rewarding."
Before working with the YWRC, Klarque resided in Houston, Texas, volunteering at their food bank and working with non-profits to help youth in the community. Klarque started her time with the YWRC as a contracted doula and was interested in our additional services. So, when her current position became available, she knew she wanted to apply.
"The culture of the YWRC is amazing, as well as the services that we provide to anybody that identifies as a young woman. I am most excited to grow the doula program and get as much education about the benefits of a doula in pregnancy out as possible. I am also looking forward to helping young women become doulas, and possibly make a career out of this wonderful trade.
I believe the most challenging part may be not always being able to reach EVERYBODY and help EVERYBODY. Sometimes as humans we want to pour our love into everything, but sometimes it is not possible."
Klarque's inspiration to connect with others and continue learning comes from her lifelong role model, her mother.
"She is very strong and goes after any goal she creates. She has always inspired me to reach for the stars, and be the best I can absolutely be as a woman in society. She is still my role model today. I go to her for everything."
The strength Klarque sees in her mother is also reflected in her own advice for girls and young women:
"No matter how hard life becomes, or how impossible a situation may seem, we can always overcome. We are strong, we are capable, and we can do whatever we put our minds to no matter what stigmas society puts against us."
Klarque's passion for childbirth education and doula practices extend outside of work as she can often be found reading books about birth in her free time. She also enjoys meditating and cooking.
Three things you may not know about Klarque:
 She hopes to become a midwife one day.
 She is a vegan.
 She is from Phoenix, Arizona!
We are excited to have Klarque as part of the YWRC team. We are grateful for her passion, positive energy and wealth of knowledge. We can't wait to see all of the amazing things you'll do with our participants and programs. Welcome, Klarque!