Board Spotlight: Lora McCollom
As we round out the calendar year, we are taking a moment to spotlight our current Board of Directors President, Lora McCollom. Lora had been a supporter of the YWRC for a long time when former board member Bruce Buchanan asked about her interest to join during the 2016 gala event. Her very strong belief in the YWRC's mission and programs is what lead Lora to respond with a confident 'yes'.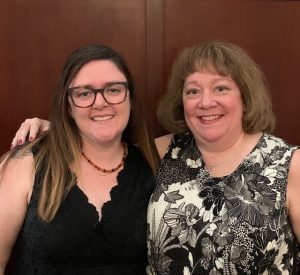 Lora's favorite part about serving on the Board is learning more about the participants.
"Every time I see the videos of program participants, I am reminded of the important work the YWRC does, as well as the amazing power and impact that the YWRC has on its clients. It reminds me that it only takes one person (or one program) to help someone change her life."
The commitment to being engaged with her community started for Lora as she grew up and was solidified during her time at Creighton.
"I was taught at a young age that you make the world a better place by giving of yourself to others…if there is someone you can help, you should (thanks Mom and Dad!). Then, when I went to college at Creighton University, we participated in countless community service projects and that solidified my dedication to doing what I can to support my community. Giving of yourself, in terms of time, education, skills, and knowledge, is just as important as giving financially."
Lora recently experienced an overlap between her volunteer work with us and professional career that solidified even further her dedication to the YWRC.
"I mediated a case recently which involved two young unmarried parents and a young child. I complimented the mom on her poise, maturity, and level of responsibility at the end of the mediation, and she told me it was because she went through the YWRC Young Moms Program. I've always known that the YWRC's programs are amazing, but I was struck by what an impact the YWRC had on this young woman."
Along with all the responsibilities of leading our board, Lora also gives her time to several other organizations.
"I volunteer regularly with the Polk County Volunteer Lawyers Project. I've served on the boards of several legal organizations and serve on several committees of our local and state bar associations. In my non-legal world, I serve as Mother Advisor of South Gate Rainbow Assembly, which is a Masonic youth organization for young ladies, and I also serve as Director of Youth Protection (statewide) for Iowa Rainbow. I have been involved with various other community organizations over the years as well."
Part of Lora's drive and dedication to community is thanks to those she considers her most influential role models growing up and today.
"I always have looked up to my mom, Patricia McCollom. Besides being an amazing mom, she was a successful small business owner and she was a nationally recognized expert in her field. I also looked up to Sandra Day O'Connor because she was the first woman appointed to the United States Supreme Court. Today, my role models are my colleagues – especially those in the Iowa Collaborative Divorce practice group – who dedicate themselves to helping people navigate family law cases in the most positive way possible."
As Lora reflects on those who have and continue to inspire her, she offers this advice to share with girls and young women:
Find a mentor.
Always have a Plan B.
Everything is figure-out-able.
Don't forget to take care of yourself.
In her free time, Lora enjoys cooking, playing golf, drinking wine and reading. When there is not a worldwide pandemic, she loves to travel – especially to Aruba and to Napa.
Three things you may not know about Lora include:
She is am a logophile (a word nerd).
Her family attests that she bakes the "best cookies on the planet" (especially chocolate chip and sugar cookies).
Her two favorite kinds of music are piano jazz and 80s rock (Aerosmith, Bon Jovi, etc.).
Thank you, Lora, for your four years of Board dedication to the YWRC. We are thankful to know that we can count on you to help connect participants to resources throughout our community. We've enjoyed having you as a part of our Celebrity Servers team for several years too! Thank you, Lora!
(Photo accompanying this article is from 2019 with Lora partnered with Annie von Gillern as Celebrity Servers.)