Board Spotlight: Ka'Meka Lowery
This month we're excited to celebrate an important member of the YWRC community, Ka'Meka Lowery. For more than twenty years, Ka'Meka has supported both children and young adults to have access to education and resources to be successful. She has partnered with the YWRC in various roles throughout the years, her most recent role being a member of our Board of Directors.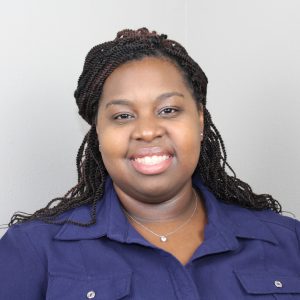 Ka'Meka's involvement on the board is inspired by her long-term passion for the YWRC's mission. "Great missions require many hands. I am humbled to be one of many who help to drive the mission and impact the lives of young women. As a board member I am able to contribute to the strategies that will support YWRC not only today, but well into the future."
Planning a vision for the organization is one of Ka'Meka's favorite parts of serving on the board. "I love strategizing about the growth and development of the organization, as well as the programs. Time does not stand still, so it is exciting to serve on the board of an organization that addresses the present while planning for the future."
For Ka'Meka, the need for YWRC programs and services was highlighted during the COVID-19 Pandemic. "A recent mission moment would be the transition of offering more in-person events and services. Last year showed us how important social interaction is to the development and well-being of our participants. I am so glad that we can offer this interaction again in a safe way."
Kari Zimmerman, YWRC Executive Director, has the opportunity to work with Ka'Meka and had this to share:
"Ka'Meka has been an incredible addition to the board. She quickly joined our Governance and Executive Committee and is also on our Advisory Board. She brings significant expertise and talent to the non-profit world around fundraising and operations. We are so fortunate to have a bright, inquisitive individual who is deeply connected to the Des Moines community as part of our board."
Ka'Meka recognizes the importance of being involved in a community organization like the YWRC. "Community organizations specialize in identifying the community concerns and the strategies to address those concerns. Being involved with a community organization means that the time, talent, and treasure that I can contribute will be combined with the efforts of others to create collective solutions."
The role models throughout her life have shaped Ka'Meka's desire to encourage youth to see their own potential. "Growing up and my role models today continue to be the amazing women I am blessed to be in the presence of and know. From my biological grandmother, aunts and mother to those women who have stepped into these roles and adopted me as their own. They saw potential in me before I saw it in myself and encouraged me to be great. My hope is that I have the opportunity to pay it forward and do the same."
Her role models also inspire the advice she has for girls and young women today: "Your voice is powerful! What you have to say is important! The world is listening, it's waiting on you to speak. Don't be silent."
Outside of sharing her time with the YWRC, Ka'Meka volunteers with a few other organizations in the area. "I volunteer at my church with the women's and youth groups along with the Pastors Ministerial Alliance. I help with a local food pantry in partnership with the Food Bank of Iowa. Every holiday season I lead a Toys 4 Tots distribution site in partnership with the US Marines Corp. I also volunteer at my children's schools with the PTA/Parent Group and my children's various sports/activities."
In her free time, Ka'Meka loves learning about history, watching documentaries, and reading non-fiction books.
Three things you may not know about Ka'Meka:
She is a Black Friday shopper.
She plays the violin.
She worked on cars growing up.
We consider ourselves very fortunate to have Ka'Meka on our team. Thank you, Ka'Meka!