Supporter Spotlight: Marilynn Cedarstrom
Marilynn Cedarstrom is starting her third year as an active, year-round volunteer with the Young Women's Resource Center. Her time with us began when she joined our YWRC Gala Committee (formerly known as the Sit On It! committee). Her favorite YWRC memory is from that first event.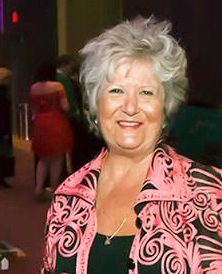 "It was great fun, but also heartwarming to see our corporate community share in our goals to empower girls in our community."
In addition to continuing to serve on this committee, Marilynn also joined our Fund Development Committee. She is very skilled in fundraising and planning, and we excited to have her on our team.
"You must give back to your community and continue to support many of our groups. Those of us that have been lucky in our lives and relationships need to support those that have not been so lucky, and to help improve lives all around us.
I truly believe in the YWRC and how they have been able to help young women and support them in achieving their goals. I feel very strongly about everything that the YWRC stands for and the good that they do in our community."
Marilynn's civic engagement in our community began when she joined Junior League at the age of 21. She has been very active with the American Cancer Society, helping them to raise almost a million dollars over ten years. Marilynn also helped raise funds for Broadlawns Hospital to remodel their Birthing Center.
"I think that we are very lucky to have business leaders that care about Des Moines and put their experiences and knowledge back into the community to make it a better place for all of us to live.  Nationally, Des Moines is becoming known for what a great place this is to live and it is making a difference as we are seeing younger people moving into the area."
Marilynn has had several role models throughout her life that have inspired her to work hard and dedicate herself to giving back to her community.
"My role models growing up would be my mother, grandmother and sister. They were all strong women that helped me through the good times and bad times – all part of growing up. They gave me the self confidence a young girl needs to be successful and taught me to be honest with myself and everyone I had contact with. My mother was truly an amazing woman. When I was just five she became the breadwinner for our family. She had to very quickly build a career that would support our family. She joined a multilevel marking company (similar to Mary Kay) and was very successful; soon she was overseeing 600 other saleswomen!
Later, as I started a 40 year career in Real Estate, I worked for Marvin Pomerantz who taught me so much about quietly helping others and working for my community. He gave back to the community so much but most people never knew all that he did and I have looked up to him for years."
Three fun facts about Marilynn are:
She water jogs each day for 80 minutes.
She is still best friends and keeps in touch with the girls she went to grade school with.
She used to make all of her mother's clothes that she would wear for work and dancing at the Val Air on Wednesday nights.
The advice Marilynn has for girls and young women today is similar to that which she received from her mother:
 "…to believe in themselves and always be honest with everyone. Bad things to happen to good people, but that cannot get in your way to be a happy and successful person. And above all, be positive in your thinking and actions."
Marilynn is a positive force in our community. We appreciate all of the dedication and insight she has given to the YWRC. We consider ourselves fortunate to have her as part of our team. Thank you, Marilynn!