A Note from Kari

Dear friends,
I know I am not alone in the anxiousness of anticipating the end of this year and welcoming 2021. However, I have been challenged to find moments of stillness to process and reflect on the lessons 2020 provided. First, I want to deeply thank all of the front-line medical staff, essential workers and anti-racist organizers. All of these individuals exhibited tremendous bravery and have continued to keep us moving forward.
This has been a year of learning, adapting and practicing flexibility! Thanks to you, more than 970 individuals received support at the YWRC this year. While the total reached is lower than previous years, it remains a win in our eyes due to the pandemic. You enabled our team to create safe spaces online and in-person to make sure participants were able to receive the necessary support to navigate intense new realities. Your generous financial and in-kind donations made it possible to deliver care packages, group activity bags, meals and basic needs to more than 250 individuals since April. Needs only increased this year, and with your help our team did everything they could to make sure our participants were supported.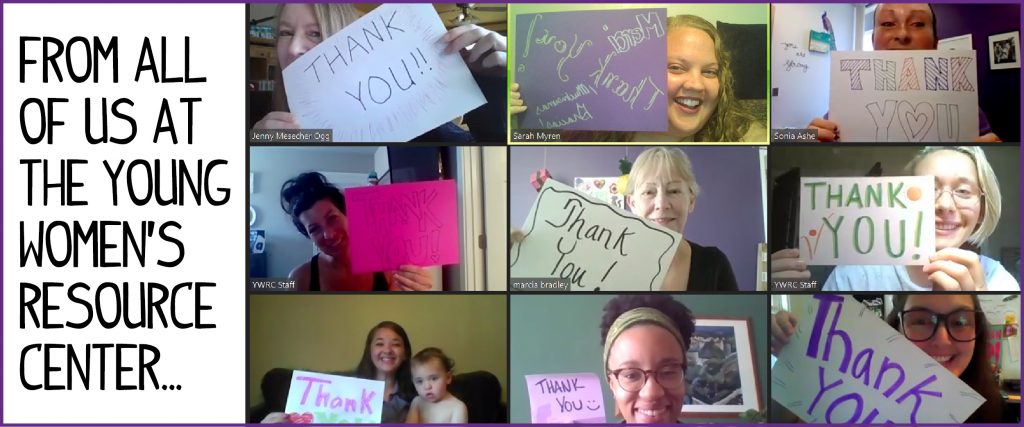 Thank you to our community of donors and volunteers that made sure we had what we needed to provide for our participants. We are not able to do this work without you. Thank you for continuing to keep us in mind, provide financial gifts, drop off donations and put love into warm meals for young moms. We know that this year has been hard on ALL of us, which makes me that much more appreciative of the effort poured out to support us.
While we wrap up this year, please consider a final year-end financial gift to continue to allow us to invest in the local girls and young women of our community. We know and believe that the future is women and we are ready to walk alongside, support, coach, and invest in our youth. Please join us!
I wish you a very safe, healthy and joyful New Year. May you find moments of peace and reflection as we wrap up 2020 and welcome 2021 with arms wide open.




Kari Zimmerman
Executive Director