Supporter Spotlight: Rachael Jackson
This month we are spotlighting a supporter who has been involved with the YWRC in a variety of ways for the past four years: Rachael Jackson!
Rachael is the Community Access Education Manager at the Des Moines Art Center and has helped connect our participants with truly unique experiences. One example was a create-your-own-superhero activity led by Rachael at last year's Empowerment Workshop. Not only did she encourage participants to be creative, but also to think about and celebrate their own strengths.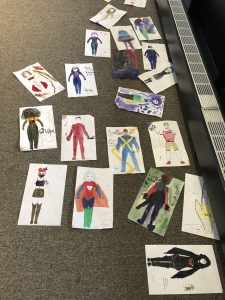 "In my role, I help to bring awareness of Art Center programming and collections to the Des Moines community and abroad. I do this by making community connections with other non-profits, human and health organizations, community resources, schools and libraries. Within these relationships, I hope to create access points for individuals and communities to use the Art Center as a cultural resource. Through our partnerships, the Art Center has grown in order to better serve the Des Moines community's young woman, girls and mothers."
Rachael is dedicated to being an active member of our community, both professionally and personally. A large portion of Rachael's role with the Art Center is to build and maintain connections throughout our community.
"Professionally I maintain over 40 community partnership relationships with a variety of non-profits, community resources, and human and health organizations, many of which are doing great work in the Des Moines community to serve children, youth and adults. You can find a list of our community partners on the Des Moines Art Center's website. In my personal life I try my best to volunteer and attend events in support our community partners as much as I can. It is very important to participate and be an active member of the community."
Frieda, YWRC Empowerment Supervisor shares that "Rachael continually works hard to meet the unique needs of the clients we serve. Our clients always enjoy the projects Rachael's team comes up with. I am thankful for her skill as an art educator and as a leader of the Art Access program. Rachael's work is a prime example of the great things that happen when people really care about the communities they serve."
We consider ourselves very fortunate to have a partner like Rachael who so strongly understands and supports our work.
"I love the audiences served by YWRC. As an organization I've always been impressed with the forward thinking, gender specific mission of YWRC. I love the emphasis on empowerment for young woman in your community and the vital role YWRC plays in creating a safe space for young woman to be heard.
I believe it is important to have a variety of voices, thoughts and opinions when you're thinking about making decisions. The different perspectives that diversity gives aides in problem solving, for it is vital that those who are most impacted by the problem have their voices heard. I think that through community collaboration you achieve the most impactful solutions, programs etc."
It is clear to us that Rachael places true value on connecting with participants and empowering them through learning new skills. Her advice for girls and young women today is:
"Be inquisitive; seek to understand the 'why' of things. Understand your history and let it fuel your fight for change because each of us can contribute to creating a better future."
This commitment to continued discovery and the pursuit of positive change is in part inspired by Rachael's grandmother.
"As a child, my biggest role model was my Grandmother Patricia Moreland. She was one of the most compassionate and driven women that I have ever known. Though she was diagnosed at a young age with Polio and used a wheelchair, my Grandmother graduated from Drake University with her Master's degree. She encouraged me every day to be kind, resilient and resourceful. Currently I am inspired by so many amazing women doing great things around the world and the community. I love Michael Obama; I love Lizzo; I love the teens that are doing great activism work at the moment like Greta and her work on climate change; I am inspired by Maya Angelou and the author Ijeoma Oluo."
When Rachael isn't busy building connections and inspiring our community, she can be found enjoying all that Des Moines has to offer.
"A few of my favorite things about Des Moines is the size. The city is big enough that there is enough to do, minus the long commutes and traffic. Also, the city has amazing parks and green spaces and I enjoy spending time in nature as often as possible. Being born and raised in Des Moines, I really enjoy the annual events like the Fair, the Fine Arts Festival and the various farmers' markers that sprinkle the city."
Three things you may not know about Rachael:
She is the proud guardian/food dish re-filler to two awesome cats
She has worked at the Art Center in some capacity for 10 years, starting as a studio assistant at age 16
Burgers are her favorite food (B-bops or Zombie Burger)
Thank you, Rachael, for always being a positive force in our community! We appreciate all of the dedication and thoughtfulness you put into everything you do.