Board Spotlight: Rona Berinobis
Rona Berinobis became a member of our Board of Directors after a discussion about the YWRC's mission and vision with Kristin Griffith, Executive Director. This conversation inspired Rona and convinced her that she could make a positive impact by joining the board.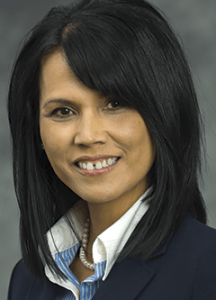 Rona's favorite part of serving on the board has been involvement in strategic planning. This includes understanding the mission to determine the most effective, efficient and realistic ways to achieve objectives and make a difference in the lives of the young women of the YWRC.
"I was inspired by the award recipients at the annual gala. Those two young women are making great choices and working hard to be the best they can be – their passion and resiliency in practice is what YWRC is all about."
The commitment to community involvement stems from the example given to Rona by her parents.
"I come from very humble beginnings with role model parents that gave so much of themselves for our family and community. They are two of the most incredible people in this world. They taught me so much about being a leader, the importance of respect, being courageous and kindness.
This example foundationally set me on the path of giving back. I am truly blessed and know that the support I can provide can make a difference. Our community is the product of what we make it. It is a responsibility to shape, support and nurture our community.
Another role model in my career is John Forsyth, my company Chair and CEO. I have learned so much from him. His wisdom, strategic prowess and commitment to integrity and inclusion has inspired me for more than 20 years."
In addition to serving the community through involvement with the YWRC, Rona also volunteers her time with several other organizations, including the Iowa Asian Alliance and One Iowa.
"I currently serve as the Board Chair for the Iowa Asian Alliance, an organization that helps to enlighten our community and state on the richness of Asian and Pacific Islander cultures. I also support One Iowa. 'Love is Love' and I believe all people should have the opportunity to feel a sense of purpose and belonging."
When Rona is not volunteering throughout the community, she loves to spend time with family.
"I have two awesome parents, an outstanding husband, two beautiful daughters and their wonderful husbands, and four amazing grandchildren. Whenever I have time, I love spending it with them. Otherwise, I enjoy jogging, biking, spending time near water and live music! I also love to travel to my home state of Hawaii."
Rona's advice to girls and young women today is:
 "Take accountability for your own destiny. Be your own inspiration. Seek a profession that aligns with your passions and be sure it's something you love to do – that it energizes you."
Three things you may not know about Rona include:
She was the first in her family to graduate from college
She enjoys hula dancing
She was inducted into her high school Hall of Fame
Thank you, Rona, for bringing your passion, ideas and commitment to community to the YWRC. We are grateful for your dedication and look forward to continuing to work with you. Thanks, Rona!