Board Spotlight: Scott Valbert
This month we are excited to feature Scott Valbert as our Board Spotlight. While Scott is an active member of the YWRC Board of Directors, he also volunteers on the Marketing Committee, has organized in-kind donations, and has helped with our client events (shout out to the time he helped us carry heavy tables on a 90-degree day). We have two long-term YWRC supporters to thank for bring Scott onto our team: Maria Volante and Amanda Young.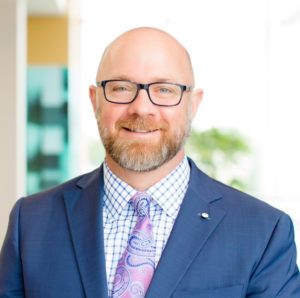 "I first became aware of the YWRC's work while I was working at United Way of Central Iowa, so I've respected the organization and known about its impact on the community for several years. I also know several women who have served on the board over the years, and when Maria Volante and Amanda Young floated the suggestion that I consider joining the board, I started learning more about YWRC's programs.
I was – and am – impressed with YWRC's commitment to inclusion. As a member of the LGBTQ+ community, it's important to me to support organizations that serve LGBTQ+ Central Iowans. YWRC creates a safe and affirming environment for queer youth and I'm honored to be a small part of that."
It was clear to us all that once Scott agrees to a role, he commits himself fully. The people who make up our YWRC community are what continue to motivate him.
"My favorite part is experiencing the passion and energy the board displays when supporting the organization. It's inspiring to be part of that, and it motivates me to contribute. Outside of the board and committee meetings I get to be part of, I've also enjoyed participating in YWRC events and getting to meet some of the program participants and their families."
When asked if there is a particular impactful moment he recognized the mission in action/felt the importance of our work, he replied, "It's not necessarily a moment, but today's political and social climate – especially attacks against the rights of women and LGBTQ+ people – make it abundantly clear how important the YWRC is to creating safe spaces and supportive programming for girls and young women."
Scott's commitment to equity work and empowering others is central to his leadership style.
"I believe the truest form of leadership is the ability to see the potential in others, find ways to support them, challenge them and equip them for success… and then get out of their way so they can become leaders themselves. Looking back, all the best leaders I've worked with or volunteered with have done these things."
A variety of role models have helped shape Scott's perspective on leadership and life. He reflects on how visibility of role models has expanded over the last several decades:
"There was so much stigma around being gay in the 1980s because of the AIDS crisis, so there weren't a lot of visible role models for kids, like me, who were growing up and forming their identities during that time. But there were definitely teachers and coaches who I remember creating safe spaces for me. There were celebrities and even athletes who were expressing themselves authentically and speaking out against homophobia. Collectively, those people were role models.
My mom was and continues to be a role model because she always worked hard, she's independent, tough and she has great style. Central Iowa offers many role models and mine range from young folks who are innovative and striking out as entrepreneurs to retired leaders who continue to make an impact by giving back to the community. There are too many to name."
Since we see Scott as a role model in our community and value his insight, we are pleased to share with you his advice for youth today:
"Be yourself. Be brave. Surround yourself with good people and ask for help when you need it. Don't compromise your values to please others."  
After serving on several boards and committees at the same time, Scott has been intentional about focusing his efforts on one organization at a time. We consider ourselves very fortunate he chose us!
"I wanted to focus my energies on a single organization for a while. I'm sure I'll become involved in more volunteer roles in the future, with a focus on issues that impact the LGBTQ+ community, including affordable housing, mental health services and support, and food insecurity."
In his free time outside of volunteering and his career, Scott enjoys traveling.
"My favorite way to spend free time is traveling. My partner, John, and I traveled to South America and Antarctica in December 2022, which was awe-inspiring. We've also discovered a love of Lake Superior in the past few years, including Duluth, the Minnesota North Shore, the Apostle Islands area in Wisconsin, and the Upper Peninsula of Michigan. When we're in Des Moines, we spend a lot of time working in our yard, spending time with friends, and enjoying all the city and region have to offer (especially in the summertime)."
Three random facts you may not know about Scott:
Mississippi is the only state in the U.S. he hasn't visited.
He was the first person in his family to graduate from a 4-year university
He wanted to be an architect when he was a kid and continue to be interested in residential architecture of all kinds
Thank you, Scott, for being an invaluable part of the YWRC Board of Directors and team. We appreciate your willingness to provide support through strategic planning, creative visions, in-kind donation deliveries, participant event set up, serving meals, and more. Your steadfast support has not gone unnoticed and we appreciate you!
P.S. – Congrats to Scott on being named a 2023 DSM LGBTQ Legacy Leader!