Volunteer Spotlight: Sidney Pezley
Sidney Pezley is a strong supporter of local girls and young women, and started as a weekly volunteer at the Young Women's Resource Center in the beginning of 2019. She supports the YWRC with a variety of database and donor acknowledgment projects.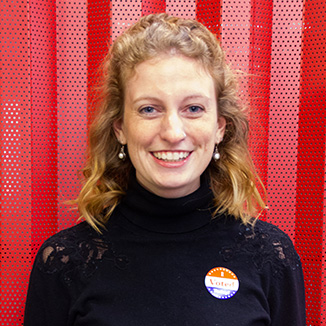 "As part of the volunteer work I do, I get to see the investment of the community in the work the YWRC does. It will never cease to amaze me how generously people, of all walks of life, donate their time and resources to empower young women within the Des Moines metro."
Sidney has always been inspired by her mother's kindness and patience, and grew up understanding the value of giving back to organizations she believes in. In addition to the YWRC, she volunteers with a couple of organizations through her workplace and church, as well as Girls Scouts of Greater Iowa. Sidney is thankful for many women who continue to serve as her role models.
"My biggest role model growing up was my mother. In addition to being one of the kindest and most patient people I know, she also has an immense capacity for love. There are so many amazing people in my life that inspire me daily; I don't know that I could pick just one.  I am constantly encouraged and challenged by women in my life who are seeking to impact their communities in big ways like law school or being foster parents or sustainability initiatives. But I'm also encouraged and challenged by the small things they do, day in and day out, like sending cards, volunteering at animal shelters and crocheting baby blankets. There are so many incredible people out there, it's impossible to not be inspired by them."
As a piece of advice, Sidney would encourage girls and young women to seek joy.
"Live your life boldly. Our lives are so full of possibility, opportunity and capability – it would be a dishonor to waste our time in fear or shame. It's important to pursue your passions, learn about what interests you, love those in your life, and be kind to everyone you encounter."
We are thankful for the time, positive energy, and commitment that Sidney has brought to the YWRC!
Sonia Ashe, Fund Development Coordinator, shares: "Sidney is so reliable, always comes with a smile and is willing to help however we need her! I am so grateful to have her help tackling big projects and making sure we are able to recognize and acknowledge all of our supporters for their generosity."
 Thank you, Sidney!