Staff Spotlight: Sarah Mowitz
Sarah Mowitz is often the first impression new visitors and clients have of the YWRC. Her warm smile and genuine welcome help all to feel at ease. We're excited to feature her in this month's Staff Spotlight, and to share a little more about her.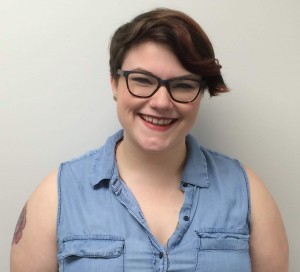 Sarah has been with the YWRC as the Volunteer and Office Coordinator since May 2016. Her responsibilities are vast and varied, including coordinating the transportation to and from groups, volunteer orientation and overall office organization. She wears many hats, but it suits her well.
"As a teen, activism and philanthropy were always important to me. I volunteered, ran identity-based groups and co-organized an annual charity concert with artists at my school. I truly believe that to be living at your fullest, you should be giving back, and I try very hard to live my life that way. I wanted to be a volunteer coordinator because I knew that I wanted to instill the value of volunteerism into members of my community and help to grow the YWRC while doing so. I wanted to also do office management and transportation coordination because organization and logistics really make me tick!"
Aside from enjoying the variety that comes with her role, Sarah also appreciates how it lends to her working with a variety of people.
"My favorite part of my job is working with our Transportation Specialists, Childcare Coordinator and volunteer team. I am so lucky to get to coordinate such a passionate and reliable group of people. I have never met individuals that are as deeply caring as they are, and every day they inspire me to be better."
Sarah has also built meaningful relationships with some of our clients through shared interests, love of chocolate and graphic novels. She takes the time to learn about the girls and young women, which is appreciated by all and helps us to build a safe space.
When she is not at the YWRC, Sarah spends time volunteering with One Iowa, Iowa Pride Network and Iowa Coalition Against Sexual Assault.
"I've always been drawn to working with people, specifically to broaden their understanding of their identities."
During college, Sarah was a teaching assistant for a course on social justice/identities in residential life. She has a strong passion for social justice, inclusivity and intersectional feminism.
"My role model growing up, and now, is Angela Davis. Her intersectional feminism and radical approach to social change helps me to stay encouraged, bold and educated on the things I find important. And, of course, my favorite drag queen, Bianca Del Rio. She inspires me to stay fierce and confident, and to not take things too seriously!"
Sarah also enjoys playing the harp, reading, cooking, drinking coffee and listening to hip hop, which she studied in college. She loves all things Des Moines including the Des Moines Farmer's Market, hanging out in Sherman Hill and going for walks with her 'floofy dog Wallace'.
Her advice for girls and young women is to "stay unapologetic and stay woke." (The term 'stay woke' refers to keeping aware and informed of everything going on around you, especially in times of turmoil and conflict.)
We are so glad to have Sarah as part of our team and community. We thank her for her genuine care for and appreciation of each client, volunteer and staff member. There is no doubt she is committed to our mission. Thank you, Sarah!