Volunteer Spotlight: Stephanie Pyle
For our first 'Spotlight' feature, we are excited to honor one of our most reliable, engaged and supportive volunteers, Stephanie Pyle. Stephanie has volunteered with us for a little over two years. We have come to rely on her and are so grateful for her dedication to the Young Women's Resource Center.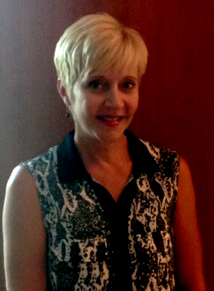 Each week, Stephanie goes to the Iowa Food Bank to gather fresh fruit, vegetables and baked goods to be used as snacks and meal supplements for groups and individuals. Not only does she facilitate this delivery each week, but also washes and prepares the produce. The staff continue to be impressed by her pineapple cutting skills.
Stephanie started volunteering with the YWRC because she wanted to be able to give her time to an organization that focuses on making an impact on the lives of young women through empowerment.
"It's rewarding to know just a couple of hours of my time can make a difference for others. I believe your time is the biggest gift you can give."
Growing up in Des Moines, Stephanie was taught by her mother to be strong, independent and to use good judgment. These values are another reason why she is such a well-matched fit and role model for our girls and young women. Today, Stephanie continues to look up to her mother as well as her three sisters.
Her motivation and independence is also reflected in the advice she would give to girls and young women:
"Find your passion and set goals to achieve your dreams. You can accomplish great things if you put your mind to it and work hard. Be true to yourself and don't let anyone tell you can't do it."
Luckily for us, Stephanie is passionate about the YWRC and the city of Des Moines. We hope this means she'll be sticking around for a good, long while.
Thank you, Stephanie, for all of your time, energy and skills. We appreciate you!