Supporter Spotlight: Chris Burch
Chris Burch, director of the IMT Des Moines Marathon, has been one of our girls' biggest cheerleaders over the last several years. Through his support of our Hit the Ground Running program, girls in 6th and 7th grades have been able to explore a variety of physical fitness activities, build self-esteem and accomplish their goal of finishing a 5k race.
Chris understands the degree of support needed to insure a successful journey for young women today. He states, "Keeping an organization like the YWRC active in our community is vital to ensuring that education, advocacy and the necessary services make it to these girls, so that we can create a positive cycle for future generations".
Coming from a non-profit background himself, Chris understands and embraces the mission of the YWRC and values the need for the organization in our community. As a previous prevention specialist with Employee and Family Resources (EFR), he worked on developing the 'It Takes Two' pregnancy prevention program.
"The YWRC is able to serve a specific need in our community here in Des Moines. I have always felt that it is one of the most important services and have always had a desire to try to support the YWRC mission whenever possible. I guess I still have some of those prevention specialist days in me."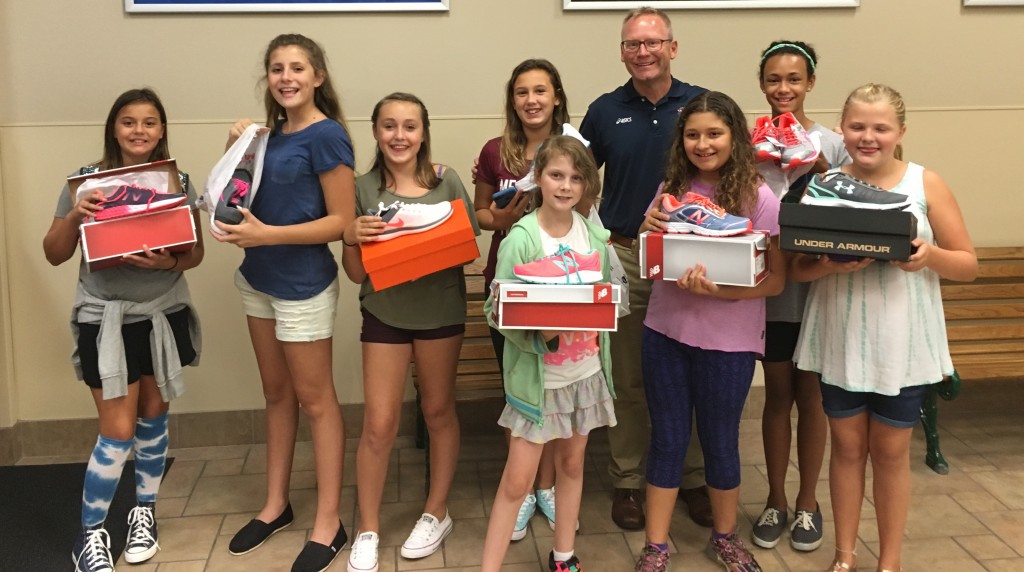 Chris's passion for our mission and love for running led to his support of our Hit the Ground Running program. Chris is an integral part of this program's success. At the beginning of each program, he sets aside time to go to Scheels with the girls to provide quality running shoes for each participant. He also covers the cost for the girls' 5k race entry fees and helps us to build connections with local health and fitness experts. Not only does he help provide key resources, but he also understands the importance of providing our girls with opportunities for growth and resiliency building. He himself turns to running as a way to relive stress, review his day and what's ahead, and to stay in touch with his body.
"Since becoming race director of the IMT Des Moines Marathon, I have personally felt and witnessed the change that running can have on a person's life and how a steady routine of fitness is vital to overall physical and mental well-being. Having the opportunity to share that with girls in the Hit the Ground Running program may provide for them yet another avenue to find activities to get involved in that will later become a part of their everyday, healthy lifestyle."
Chris's favorite part of working with the Hit the Ground Running program is to see the girls on race day. The finisher medals he provides are enthusiastically accepted and appreciated by each participant. "They are so proud and have such big smiles on their faces that you can tell they are just super excited to be there."
Our girls aren't the only ones to win awards, however. At the close of each Hit the Ground Running program, we host an awards ceremony. At this ceremony, Chris is always voted to receive the 'Biggest Fan and Cheerleader' award. The girls are excited to be able to say 'thank you' in this fun way.
Chris's sense of community and 'giving back' is thanks to his mother. "My mother has always been a positive role model in my life. She has taught me to be involved in the community I live in and to say 'yes' whenever possible to those that are less fortunate."
The message Chris would like to pass on to all girls and young women is that, "it is okay to be yourself and to like yourself for who you are". We couldn't agree more.
Thank you for all of your support throughout the years, Chris. We sincerely appreciate you sharing your time, knowledge and passion with us.