Staff Spotlight: Susana Martinez
As we kick off a new year, we are excited to spotlight our team member Susana Martinez. Although she just joined our team a few months ago, Susana hit the ground running and has already initiated and completed several projects to help our organization run smoothly.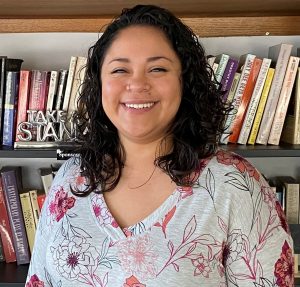 "I started working in October 2021, so it's not been very long but I've had a great time being here. I first heard about the YWRC when a good friend of mine started working here right after college. She had told me about the organization, invited me to events in the past, and encouraged me to volunteer. It was always fun to see how she lit up talking about her role and how much she loves working with her participants – it made me want to be a part of it too."
Susana is the Volunteer Coordinator for the YWRC. In this role, Susana is responsible for coordinating volunteers and in-kind donations.
"I spend a lot of my time networking, reaching out to previous and current volunteers, and assessing inventory of our in-kind donations. I try to ensure that donated items are properly distributed to our facilitators. I keep track of what we have versus what we need, keep donations organized, and delegate tasks to our volunteers."
Susana's experience as a volunteer throughout the community, and for our Back to School Bash event, brings a valued perspective to her role.
"I used to volunteer as a Spanish Interpreter for medical services and with the Des Moines Public Schools. It was very rewarding to help families find the services they need, and the families were always grateful. It's a fun way to meet people, make connections with local services, and give back to the community that I live in."
While Susana was first inspired to work with YWRC through stories shared by a friend, she remains invested and motivated by the variety of resources the organization can provide.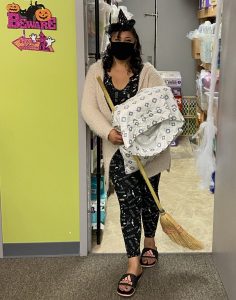 "I was happily surprised with the wide range of services we offer to participants. It seems there is something for everyone to benefit from. If we can't offer a particular service, we can point participants in the right direction. Our staff is constantly looking towards the future, making changes to support the current social needs, and offering undivided support to both participants and other staff members."
Unsurprisingly, COVID-19 continues to have an impact on how we provide resources for local youth. Susana plays a key role in making sure we have the critical care items participants need.
"At the moment, COVID is still playing a role in our everyday processes. Unfortunately, it limits what we are able to do in terms of events, group sizes, and donations we are able to receive. The situation is manageable of course, but it's still sad that COVID has become a constant."
Even though there are ever-changing challenges to how we can receive and distribute items for participants, Susana's favorite part of her role remains sorting donations.
"We get donations every day, it's so exciting to open mystery boxes. It's encouraging to be able to cross donated items off of the Items Needed list. I also enjoy the well wishes from our donors on the packages."
One of Susana's consistent role models has been Dolly Parton.
"She is a humanitarian, philanthropist, and great supporter of education and science. She has always been outspoken about how her image empowers her and encourages people to be confident. She has consistently spoken on social issues and inequalities while being warm, gentle, and feminine."
Susana's advice for girls and young women centers around the word "respect".
"Be respectful. Respect yourself by being authentic, set boundaries, and stand your ground. Respect your future by educating yourself and making decisions that will be of benefit to you. Respect facilitators and educators by being receptive. Respect your friends by being supportive and unbiased. Respect your family by being fun and loving."
In her free time, Susana enjoys traveling with her husband to see family and friends.
"In 2021 we visited San Diego, several parks in Colorado, Chicago, Sioux City, Omaha, Wichita, and St. Joseph, MO. This year we plan to visit Colorado again and go to Puerto Rico. When we are not traveling, we spend a lot of time working on home projects and watching movies."
Three things you may not know about Susana are:
She loves going to concerts
Her hobbies include embroidery and learning to sew
She enjoys collecting random facts about anything and everything
In the first three months of Susana being on our team, she has already implemented new ways of storing items to be more accessible to participants, is building connections with volunteers, and brainstorming new ways to update our processes. THANK YOU, Susana, for sharing your positive presence, strategic thinking, and contagious motivation with our team.