Supporter Spotlight: Tera Hamann
Tera Hamann is a vital part of the our community and we are excited to celebrate her this month! Tera has been with Broadlawns Medical Center for three years as an OB floor nurse and lactation consultant. Her plan when she was hired was to build a much needed lactation program to help increase access to resources.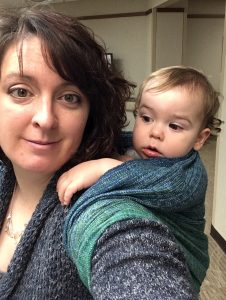 "In my time there, I have started an in-person and Facebook support group called Broadlawns Mommy Matters. As part of the Plus One childbirth education class series, I was invited to teach the last class on breastfeeding. That grew into teaching an independent breastfeeding class, as well as a pumping class. These are offered free to the community, regardless of where you had or will have your baby.
I'm very passionate about education. As many of us know, physicians get very little education on breastfeeding. I really enjoy working with our Family Practice residents, educating them every chance that I can so that they go out into the world and their career with a good knowledge base to support the breastfeeding families in their care."
The passion and dedication Tera has for our community and continuing education is apparent through the excitement she shows when speaking about her role.
"I absolutely love what I do! I am surrounded by an incredible group of nurses and midwives that truly want the best for our community. I feel so appreciated and supported by Broadlawns, who has allowed me to fill in a gap in the community and offer support.
There are so many rewarding aspects. I really enjoy seeing families grow into their nursing relationships and meet their breastfeeding goals. I also really enjoy watching our village grow, seeing moms that I have helped in turn reaching out and helping and supporting others. It's been incredible to be able to step back and watch as the knowledge and experience in our community grows and so many are able to help each other.
I feel the most passionate about helping women to make educated, informed decisions, while empowering them to trust their instincts. So often in the medical field we do not do the best job at this. When it comes to all things parenting, the medical field tends to teach us that we can't trust our instincts. I love that they offer classes and support that allow these women to make educated decisions."
We have firsthand experience in seeing the ripple effect of Tera's teachings. She has been a stellar resource for our Young Moms staff and participants and we are grateful for all she's shared with us.
"I have worked with Jewelz from the YWRC both personally and professionally. She was the one who introduced me to this incredible resource. I've been able to help her in her role as a certified lactation specialist, helping with education and experience towards her journey to become an IBCLC. My role at Broadlawns often puts me in a position to work with women who are also working with YWRC. It is such a valuable resource!"
Tera extends her commitment to our community through her volunteer work with Help-a-Heart.
"Having a kiddo that was born with heart disease, I am involved with the Help-a-Heart support group. After learning about the importance of keeping babies close and seeing the benefits with my own medically complicated baby, I donate baby carriers to families with heart babies so that they can wear them and keep them close and safe."
The instinct to provide care for others stems partially from Tera's role models, her grandmother and Dr. Nils Bergman.
"My grandma was my role model growing up. She was the epitome of a grandma, down to the cookie baking and the twinkle in her eye. She offered me unconditional love and support.
Today, I'm not really sure how to answer. I have so much love and respect for so many in my community and my village. Dr. Nils Bergman is the father of kangaroo care and I had the opportunity to meet him at a local conference a few years back. I really love how he provides the science behind why you can't spoil a babe and snuggling them and holding them close is actually the right answer."
Tera's advice for young people today is:
"Trust your instincts – they are there for a reason. And never be afraid to use your resources! We are fortunate to live in a community where there are so many resources available. People want to help! Don't hesitate to offer them the blessing of allowing them to help you."
When Tera is not out championing moms of all kinds and spreading knowledge, she likes to enjoy all that Des Moines has to offer.
"There are so many things geared towards families. My family has a zoo/science center membership that we try to use regularly. There are so many phenomenal parks. I haven't had any problems finding restaurants and theaters that are kid-friendly. But probably my favorite thing is the community – so many truly wonderful people. There's something to be said for 'Iowa kind!'"
Three things you may be surprised to learn about Tera:
"I'm in the process of raising five band geeks/nerds. We can't all have athletes!
I consider myself somewhat of a hippie: I have a garden, do canning and raise chickens.
I'm currently planning and incredible breastfeeding tattoo."
While Tera is striving for the ever illusive 'work-life balance' she is more than happy to connect with anyone looking for more information or resources.
Thank you, Tera, for the incredible work you are doing to empower moms of all kinds throughout our community. We consider ourselves very fortunate to collaborate with you!