Supporter Spotlight: Terry Hernandez
We are excited to honor Terry Hernandez in our Supporter Spotlight. Terry has been leading the Chrysalis Foundation as the Executive Director since 1997. Chrysalis is a foundation that partners with the Greater Des Moines community, including the Young Women's Resource Center (YWRC), to provide Iowa women and girls leadership skills, educational and economic opportunities, and a voice within their communities.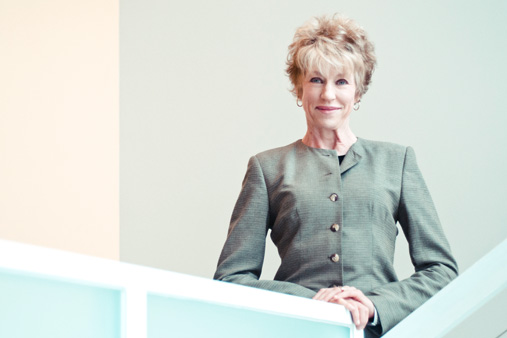 Chrysalis and the YWRC were both founded by Louise Noun and share a similar overarching vision for the girls and women of Greater Des Moines. Our collaborations with Chrysalis bring meaningful programs and education and we're excited to share a bit more with you about their leader at the helm.
Terry has been involved with the YWRC even before her time with Chrysalis.
"I have known of YWRC since the early 1980s, when I worked in public relations at Iowa Lutheran Hospital. The hospital's auxiliary helped start what was termed 'Young Moms East', a program for pregnant young women and mothers who otherwise were not accessing health services.
The mission of YWRC has always resonated with me. I had a privileged upbringing but had friends who did not, so we supported each other's self-esteem and resilience. Being a female in and of itself is considered a 'risk factor', so I know we all can play a role in helping younger girls and women."
Collaborations between Chrysalis and the YWRC on programming have been happening at least since the 1990s. When asked what component of the YWRC Terry is most passionate about, she said:
"Of course it's the Afterschool programming – the YWRC has been a key partner in Chrysalis After-School programming since we began, and we've seen what a remarkable difference it makes."
The YWRC is fortunate to have such strong community partner in Chrysalis, and we appreciate Terry's commitment to supporting fellow organizations.
"There is such rich knowledge and experience among organizations that sharing information, at a minimum, is essential. But the additional aspects of cost-sharing, cross-training, problem-solving and more happens every time organizations get together. Community organizations are the "businesses" that serve those who may have fewer resources, fewer opportunities, and fewer choices than the population as a whole. I like to say that Chrysalis 'purchases services to fulfill our mission' from the community organizations that connect with girls and women."
Both of our organizations often get asked if we provide services for those who do not identify as female. While our work focuses on self-identified females, both organizations recognize the importance gender-specific services.
"There is need for both female- and male-specific services in Des Moines. Women and girls are documented to face more disparities than men and boys; likewise men and boys need to 'unlearn' the attitudes and behaviors society so often teaches them. It's the only way we can help all genders create their own social norms that lead to equality."
When asked what advice she'd give to girls and young women, Terry responded:
"Treat people kindly, pay attention, respect others, offer to help, ask for help, do good deeds, practice solid values, volunteer in the community, be a good friend, listen-listen-listen, and mentor younger girls and women. It's all about being you. Don't be someone else."
This advice has been influenced by several role models.
"I've been blessed to have had the benefit of a strong mother (and father) and am grateful for the amazing woman she continues to be. Throughout my life I have been inspired by amazing women including Babe Didrikson, Coretta Scott King, Susan Sarandon, Golda Meir, Eleanor Roosevelt, Wilma Mankiller, Michelle Obama, Dr. Angela Davis, and of course, Louise Noun, whom I had the gift of working for in my early days with Chrysalis."
We look forward to Terry continuing to be a leader in Des Moines for many, many years to come. One aspect of Des Moines Terry appreciates is the diversity.
"Des Moines has become so rich in cultures, races, faiths, ages, genders…it's a wonderful environment to keep learning and growing, no matter who you are."
A few 'little known facts' about Terry show she herself has had diverse experiences:
 She met Sonny and Cher before they had a television show and became famous.
For many years, she held the high jump record at Monroe Elementary School.
Terry once ran at the Drake Relays.
She is an animal lover and has three Pitbulls from rescue shelters.
Like Terry, the YWRC values community partnerships and we look forward to continued and new collaborations with Chrysalis. Thank you, Terry, for being a champion for our girls and young women!