Board Spotlight: Maria Volante
This month, we are excited to spotlight our newest board member, and dedicated volunteer, Maria Volante.
Maria first got involved with the YWRC when she accepted, and dominated, the role of 2018 YWRC Gala co-chair with her sister, Georgette Longnecker. The two were also co-chairs for the 2019 event and even shared photos of their middle school selves to help motivate guests to give!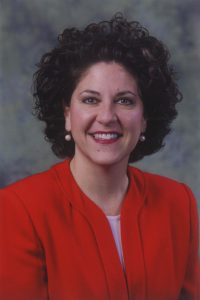 "In doing that [co-chair roles] we were able to learn even more about the amazing work being done at YWRC for the girls and young women in our community. We had the opportunity to meet and work with much of the team and after that – who wouldn't want to be more involved?!"
Maria's commitment to community and giving back is clear to all who are fortunate to work with her.
"I truly believe in the passage 'From everyone to whom much has been given, much will be required…'   Des Moines has been an extremely wonderful community to live and work in. My husband and I came to Des Moines right out of school and could barely buy groceries, waiting for our first paychecks. That was over 30 years ago and we have benefited greatly from this perfect place to live. As a result, we find it very important to share our resources to help others.
To not be involved when you have the ability to do doesn't fit with how I was raised. Des Moines is led by people in the corporate, government and non-profit sectors who come together to take great care to service our community for both the short and long term. We are an example to so many other communities – across the country. That is because we all do our part and I strive to do mine."
While Maria is new to our board, she's already made a significant, positive impact and connected with fellow board members. When asked to highlight her favorite part of being on the board, she couldn't pick just one.
"It is hard to pick one! I love continuing to understand the great work that YWRC is doing as well as the needs that exist. The staff is passionate and very motivating to me. Lastly, the board members share a passion for the mission that is contagious."
Maria's first 'mission or lightbulb' moment struck her when she first toured the YWRC.
"It came simply by seeing the supply closet – filled with diapers, formula, toiletries, baby clothes – things that are essential for moms, babies and children to be cared for. The simple needs being filled by that closet struck my heart. I will never forget that."
Outside of spending time with the YWRC, Maria also volunteers with several other local organizations.
"I have been involved with the United Way of Central Iowa for many years and in many roles including board member, cabinet member and volunteer. I recently completed a tenure on the board of the Des Moines Social Club. We also have the opportunity to do different volunteer activities throughout the year for a multitude of organizations."
A series of traits she admires in her own role models has helped to ignite Maria's commitment to community and personal growth.
"When I have considered role models both growing up and today it isn't really one person but rather traits of a whole collection of people. I have respected how much my mother has always read, the words of Maya Angelou, the work ethic of my father, the communication skills of executives, the list goes on. I guess it's like a patchwork of amazing talent that has always been what I have paid attention to and aspired to be."
Maria's advice to girls and young women today is:
"Believe other people when they tell you that you are smart, amazing, talented, pretty, funny, driven, kind and any other compliment. Don't shun a compliment – rather say thank you and file it away in your mental folder of happy moments. Open that folder whenever you need it to remind yourself that you are indeed smart, amazing, talented, pretty, funny, driven, kind and all the wonderful things that you are!"
In the little time that is left after work and volunteering, Maria enjoys spending time with her husband, reading and being creative.
Three things you may not know about Maria:
She has been married to her best friend for 32 years.
If she had more talent, she would be a Broadway singer – she has the passion, just not the talent! She love, love, loves music.
She absolutely loves ice cream.
We continue to be grateful to Maria for all of the passion, insight and hard work she has given us at the YWRC over the past few years. We are excited to have her as part of our board and look forward to all we will do together. Welcome to the board, Maria!