Volunteer Spotlight: Ellen Converse
We are excited to celebrate Ellen Converse this month as our Volunteer Spotlight! Ellen first learned about the YWRC through one of our former Volunteer Spotlights, Erin Haberman.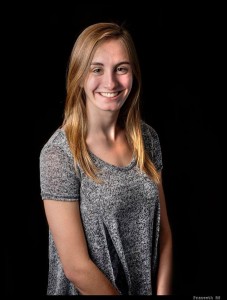 "I kept hearing her talk about how much she loved the organization and volunteering for it that I got curious and started looking into it! After I started learning about the YWRC, I couldn't wait to start volunteering there."
Ellen began volunteering with us last spring, but spent the majority of her time with us this summer.
"I loved doing childcare work this summer. The kids were so fun to play with and so cute! But, I think my favorite volunteer duty to do would be whatever office work Sarah (office and volunteer coordinator) had for me on any given day. The staff has so much to do every week, so I enjoy coming in and doing smaller tasks that help free up their time to better serve the girls in Des Moines. This included anything from straightening up the Girl's Store to sorting baby clothes to making reminder calls!"
It quickly became clear that Ellen was truly here to support the staff and girls in any way. Her passion for our mission is evident by her commitment to and enthusiasm for each task.
 "I volunteer for the YWRC because I believe in everything it stands for. Empowering young girls is something I find very important. I am so happy there is an organization that fosters that in Des Moines. One of my favorite memories from my time with the YWRC has got to be this summer while working at childcare. It was my second time volunteering in this capacity and two of the little girls that I had played with previously ran into the room and gave me the biggest hugs to greet me! It was a great way to start the night and really made me smile."
Through her experiences with the YWRC, sorority and church group, Ellen has defined her own voice in the volunteer world and feels committed to making an impact in our community.
 "Volunteering is important because it is our responsibility to better our own community and to step in when we see areas of life that need help. Volunteering is fun and easy and I strongly believe that everyone should volunteer his or her time at least a few times a year. If you have a way to make somebody's life easier or better, why wouldn't you do it?"
Ellen's commitment to giving back to the community stems from her role models, her mother and grandmother.
"My grandma was my role model growing up and is still my role model today. My grandma held three things very close to her heart and centered her life on them. These aspects were family, volunteering and her church. She could never say no and was always willing to lend a helping hand to anyone who needed one. I think that watching her give back to her community as much as she did in her life is what made me interested in getting more involved in volunteerism.
My mom is my current role model. I honestly don't know how she handles all she is involved in and still has time to be an extremely supportive mother to myself and my two brothers. She continues to push herself to grow by learning and experiencing new things. In high school I would have said that I never wanted to be like my mom, but now I can't think of anyone that I would rather be like and love being told that I remind others of her."
Hoping to pass on some of the lessons she has learned from her mother and grandmother, and through her own experiences, Ellen has this advice to offer:
"My advice to young women and girls would be to work towards whatever you want in life. Don't let anyone tell you that you won't be able to do it or that you are too young to accomplish your goals. Work hard and success will follow! I also advise everyone to really work to develop strong relationships with your family. At the end of the day, they are the people who will always be there for you. I promise that having family members of not only family, but friends too, is a really wonderful experience."
Thank you, Ellen, for being such a committed, reliable, passionate volunteer. Your donation of time and talent has made a positive impact for our staff, clients, and, of course, those you've spent time with in childcare. We are excited to see all of the good you will continue to do throughout our community.